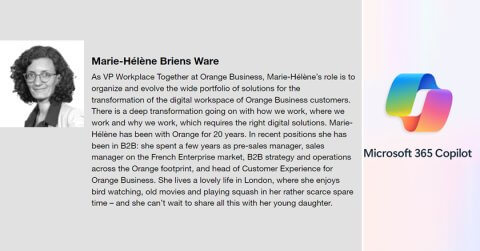 By Marie-Hélène Briens Ware, VP Workplace Together at Orange Business Services.
Generative artificial intelligence has suddenly taken front stage since OpenAI's ChatGPT was made available to everyone in November 2022. Since then, the key questions for every organisation have been: What's in it for us? What can it change in the way we work, in our customer experience, in our operations? The race is on to bring the power of generative AI into the workplace. One key development has been the announcement by Microsoft that they were soon releasing Microsoft 365 Copilot in general availability.
Orange is one of the organisations around the world to participate in the Microsoft 365 Copilot early access program (EAP). Microsoft 365 Copilot combines the power of Large Language Models with data in the Microsoft Graph – calendar, emails, chats, documents, meetings and more – and the Microsoft 365 apps to help users create content faster and better.
Copilot will be available in Microsoft 365 applications, such as Teams, Excel, Word, Outlook, and PowerPoint this fall. It uses generative AI to help users write, design, and present more effectively. What's unique about Microsoft 365 Copilot is that it is fully integrated into our daily work tools. Yet, you don't have to use it if you don't want to.
Let me give you an example: I used it to draft a first version of this blog. I prompted Microsoft 365 Copilot with a few bullet points using natural language, as I would use in a normal chat. It came up with a well-written draft, and I added my personal edits on top. It saved me at least one precious hour of work.
This is a good example of where Copilot excels: it helps users do various tasks, such as writing a blog, creating a PowerPoint presentation, or summarising a meeting, faster and perhaps better. Microsoft 365 Copilot has the potential to help many people work a lot more efficiently. Expect it to make a big impact!
That's why we are thrilled to be part of the Microsoft 365 Copilot early access program (EAP), and why it's important for Orange. We want to figure out how Copilot can change the way people work. What we experience as a diverse, global company will probably look similar to what many large organisations will experience. For Orange Business, being able to help our enterprise customers leverage the best of the technology in a smooth manner is a key goal. By applying our learnings, we can help our customers make the most of Microsoft 365 Copilot. We are also proud to have the opportunity to provide feedback to Microsoft based on our testing to help improve Copilot to boost employee experiences across the board.
Ultimately, this kind of new tool will enable us to save time on low or moderate value-added tasks, freeing up time for tasks where humans excel. Creativity, listening, forming convictions, taking care of customers, imagining new services, reacting to new situations…these are just a few examples of what will be more possible because other tasks will be accelerated and optimised by Microsoft 365 Copilot.
Preparing to test
Over the summer we assembled a core team to select a wide range of testers across Orange worldwide and prepare the roll-out. Participants needed to understand both what to expect from the early access program and what was needed from them. Generative AI generates a lot of excitement, so setting appropriate expectations was important.
A main concern for Orange was data privacy and GDPR (General Data Protection Regulation) compliance. People had concerns about what would happen to their data. Was it safe? Were we taking a risk regarding GDPR or privacy in general? Were other people going to access their data? The best solution was to make sure that our data would be protected and stored in the EU (European Union). Microsoft listened to our concerns confirming that Microsoft 365 Copilot benefits from Microsoft's security and privacy contractual commitments (including GDPR compliance) as well as the Microsoft EU Data Boundary initiative that aims to define a European boundary within which Microsoft has committed to store and process customer data.
How's it going? Early insights
We gathered a diverse and representative group of testers who could use Microsoft 365 Copilot in different scenarios, contexts, and job roles, including sales, marketing, HR, IT, consulting, operations, personal assistants, project managers, legal, finance, and more. We also made sure to include representation from 12 different countries. The program formally kicked off earlier this month, and we launched a testers' community on Teams, and it is already very active. We collect feedback weekly from the testers.
Key objectives for us are to evaluate the impact of Microsoft 365 Copilot on our employees' experience, and then see how our learnings can be applied to support our customers' experience. We want to see how Copilot can help save time, reduce errors, increase quality, boost creativity, and more generally make users feel better in their job. We also want to understand what they need to adopt Copilot as effectively as possible. We are also deploying internally other AI tools, for instance based on Microsoft Azure OpenAI Service, and some of the feedback from our employees is to better understand which technology to use for a specific situation.
We want to get a clear idea of the most powerful use cases – and it's not just "doing a summary" or "creating a pivot table." We want to understand in which context Microsoft 365 Copilot brings most value, i.e.: summarising commercial contracts, creating a report on quarterly financial performance, etc. We want to see which job roles will benefit most from Copilot, hence the diversity in the recruitment of testers. And it's not just about the diversity of people, but also the diversity of data: the power of Microsoft 365 Copilot will likely express itself differently in different organizations because just like any AI, the quality and nature of the input data has a big impact on the output.
What's next?
We are learning as we go as all of this is obviously very new. Not just the generative AI technology, but how people see it and use it. It is already clear that data management, change management, and governance will be important efforts to the rollout of any generative AI solution. We are looking forward to seeing the results and leveraging our insights and takeaways both internally and with our customers to unleash positive productivity!