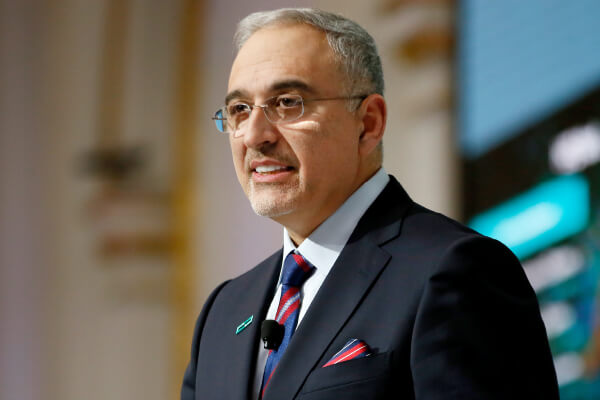 Hewlett Packard Enterprise President and CEO Antonio Neri highlights the firm's channel-centric approach to digital transformation.
Humans are innovators. If we weren't, we wouldn't have accomplished the wonders which constitute the basis of our world today. Developing modern medicine, exploring the universe beyond the limits of our planet, connecting the global population through air travel and the internet: they're all remarkable achievements that we should be proud of and grateful for. But what we are capable of accomplishing next is something truly incredible.
We're at the frontier of a new age in technology, the ramifications of which will take the human race to places which the great pioneers of the first computers couldn't even dream of. We're making technology which is poised to disrupt all industries: from AI that can bring an end to human trafficking, to blockchain that allows for trust-building, secure data sharing and monetisation. We're making smart buildings in smart cities, full of people connected by wearables and countless smart devices at the edge. All of this is creating unprecedented amounts of data which contains huge value, but also presents a critical challenge. From storage to analysis, we must innovate so that we can harness the potential of technology, but not at the expense of the planet.
HPE has always been a leader in innovation. We champion the importance of education, technology skills, and advanced science. Our vision for the digital sector follows a partnership model, developing local talents and competencies. This ushers in amazing solutions, enabling better business and a better world. Our recent partnerships have included:
In partnership with the World Economic Forum and Purdue University, we're using IoT and edge solutions to try to solve world hunger.
Using AI to help Marinus Analytics fight human trafficking.
Building supercomputers for École polytechnique fédérale de Lausanne (EPFL) and Blue Brain Project to unlock the secrets of the human brain.
Accelerating breakthroughs and optimising efficiency helping Mercedes-AMG Petronas win the F1 championship.
Our solutions and innovations are being used to tackle some of the greatest challenges of our time, producing achievements which are out of this world – literally and figuratively. We design and build the high performance computers needed for space exploration. We partnered with NASA to launch the most powerful earth-based system into orbit. Back on earth, we tailor AI solutions individually to match each company's needs. Our complete AI solutions include strategic advice, purpose-built technology, operational support, and a strong AI partner ecosystem. We're also working for a better planet with our circular economy, and utilising innovations like HPE Synergy and memory-driven computing to save energy and materials.
We predict the enterprise of the future will be edge-centric, data-driven, and cloud-enabled, so we're constantly researching and developing to make us the perfect partner for digital transformation on any scale. We believe in the potential reach of technology, so we're preparing for a bright future – our partnerships and investments with universities are testimony to our belief that technology plays a vital role in the evolution of education. We are committed to sharing our knowledge and fostering interest in STEM among young people.
Our expertise shows us that we're nearing the end of the physical possibilities of traditional computer architecture. Hewlett Packard Labs have been driving innovation to find a solution to this problem and researching the potential of high-performance computing (HPC). We've just opened our fourth Innovation Lab, and we've also developed a new computing architecture called Memory-Driven Computing. This innovative tech takes a different look at the fundamental way computers are built, placing memory at the core to deliver the speed needed to not only cope with, but capitalise on, the growing amount of data. The implications are huge, such as providing personal, individualised healthcare.
The technology which has helped us achieve so much, can only take us so far. To herald in the possibilities we see on the horizon, we need innovation. Innovation is in our DNA – nowhere more so than at HPE, the Silicon Valley founder. We bring unrivalled expertise and capabilities to bring in the right vision of the future. We believe our innovation, created with a strong onus – from both enterprises and governments – on partnerships, collaboration, education, and research, is what the world needs. That's why HPE's purpose is to advance the way we live and work.
Digital transformation is impacting all business and industries, bringing with it game-changing innovations and unprecedented potential. However, it's also leaving some companies struggling within the disruption of the market. HPE has created, and is fostering, stability through its well-established Partner Ready Program, allowing us and our Partner ecosystems to benefit from the changing market. Our strategy and commitment to partners is bringing profit to both sides, enabling us to achieve the potential of this digitally transforming time.
Partners and customers are core to HPE. Building long term relationships with them is part of our culture. Through continued commitment to the channel, we have created a strong alliance ecosystem based on trust and loyalty. In this ecosystem, partners are provided an ideal environment for collaborative innovation, testing, marketing, strengthening industry credibility, and sales, while HPE develops its ability to meet customer requirements. And it works: on average, globally we sell over 70% of our business through our channel partners, while in the Middle East this figure increases to nearly 100%.
It's a mutually beneficial system, where HPE offers its partners one of the biggest profitability opportunities in the industry. We give unrivalled rebates, special pricing, and deal registration programmes to partners' sales teams. They also benefit from protection and margin opportunities. We understand that different businesses have different needs, so our partners can have different membership levels correlating to additional benefits as they progress in specialisations, certifications, competencies and revenue targets. All our Platinum and Gold partners, for example, are enabled and empowered to sell and support strategic products and services – such as HPE Synergy, Simplivity, Nimble, and GreenLake – in line with HPE strategy.
We have a number of very large, loyal resellers and distributors in the UAE driving big successes, and we're investing in medium and small companies with our simplified Partner Onboarding process and Engage and Grow program. We work closely with our channel partners to align our worldwide priority solutions and the local market opportunities.  We believe the opportunity in the UAE is unique in terms of digital innovation and growth potential. In line with Vision 2021, we can expect to see new products and services growing fast, bringing benefits alongside business and societal development. We're ready to facilitate these exciting changes through our strong and stable channel business in the area.
There are a number of high-growth products and services that will drive business for us and our channel partners, such as: HPE Synergy and HPE SimpliVity composable and hyperconverged solutions; HPE Nimble Storage and HPE 3PAR storage solutions; and HPE OneView and HPE OneSphere software solutions. I've already mentioned game changers – the leader in this category is HPE GreenLake – the first and only software-powered pay-per-use model built exclusively for partners. GreenLake's consumption-based as-a-service IT solutions give customers public cloud advantages while retaining on-premises control; it's a balance of flexibility, cost and control which increases customers' return on IT investment, speeds time to value, fulfills business needs, and delivers scalability.
As digital transformation continues to disrupt industries, the focus of our industry leading Partner Ready Program is to enable partners to drive our joint customers through their digital transformation journey using IT consumption models. In the rapidly changing market, the HPE portfolio is stronger than ever. Our innovative products and solutions reflect emerging market trends, giving us -and our partners- the competitive advantage needed to bring impactful solutions centered on customer business requirements. At HPE our purpose is to advance the way we live and work – we know that ultimately we can help achieve this by accelerating success for our partners, bringing the most out of IT investments.