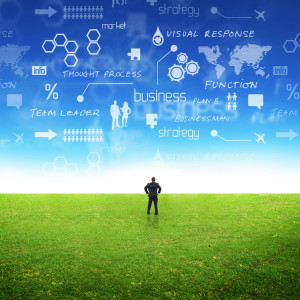 In 2014, enterprise IT teams should seek to harness the power of change. Savvy IT organisations understand that the right technology can positively impact their business.
These organisations are responding to the need for change by seeking to harness those technologies that can differentiate their business, provide a better customer experience and ultimately help them gain a competitive edge.
In order to help companies embrace change, deliver a positive user experience and focus on solving business performance challenges, we have put together a list of the Top 10 Trends that will impact IT organisations in 2014.
1. DevOps teams become the norm, not the exception – DevOps, which started as an offshoot of Agile development, with a focus on achieving continuous delivery, will continue to catalyse change across IT departments on how teams from different IT domains will collaborate, which tools are employed to facilitate friction-less delivery, and the skill-sets that become increasingly desirable. Today dedicated DevOps teams are found in hardware and software companies, as well as a fraction of progressive enterprise IT departments. In 2014, expect specific DevOps teams to sprout up in all large enterprises.
2. The Internet of Things – As more objects become embedded with sensors and gain the ability to communicate, the resulting information networks promise to create new business models, improve business processes and reduce costs and risks. Many industries are gaining a competitive advantage from "connectedness", among them: fleet management (for tracking goods and vehicles), consumer electronics and retail (stock control). Manufacturing, oil and gas, automotive, security, transport and even environmental management (smart cities) are gaining in this area. In 2014 adoption increases as companies continue to search for competitive advantages that also drive cost savings.
3. Monolithic cloud strategies fade – Companies are moving towards automating the dynamic shifting of workloads from one cloud service to another for optimum performance, price and availability. IT will gain experience and confidence in moving a workload out of the path of a super typhoon, to a lower cost service provider, or to a service provider closer to the end-user so the latency is minimised. In 2014, companies will move beyond the "I have a cloud strategy" to "I have a multi-cloud strategy."
4. Software-defined everything hits production – A software-defined infrastructure is about decoupling the hardware that executes the data transactions from the software layer that orchestrates them. Rather than individual elements (compute, storage, and networking), infrastructure will be treated as a set of resources required for specific workloads. The goal is about using software to create an underlying infrastructure that can be managed holistically as part of the business. In this world, the application, end-user and the business are king. In 2014 we'll see organisations finally implement software-defined architectures to achieve continued flexibility and control. Expect individual terms like "software defined networking" and "software defined storage" – which are just means to an end – to give way to larger concepts around the software defined data center and software defined branch.
5. Enterprises start monitoring Personal Clouds – Personal cloud allows users to have access to use whatever device they want all while having constant access to the content and services they want to use, whether personal or professional. In 2014 personal cloud services will outdo the growth of enterprise cloud services due to the continued growth of mobile computing, the growing number of mobile applications, and the growth in number of devices owned and used for personal use (personal cloud can drive an average of up to 3 devices per employee.) IT won't 'own' or regulate these clouds, but will start monitoring them in 2014 to ensure sensitive data is not at risk.
6. Consumerisation forces IT to measure customer satisfaction – Consumerisation shifts power from the IT organisation to the users (whether employees or customers). As the power of the individual continues to grow, IT organisations must adapt to their users – whether employees or customers. User expectations are transforming the way IT organisations do business. In 2014, IT organisations will respond by implementing metrics and measuring the satisfaction of their employee "customers." Expect tried-and-true concepts like Net Promoter Score to become a mainstay in how IT evaluates its overall effectiveness.
7. Big data drives public cloud storage – In 2014, Big Data gets even bigger with the additional information being created by the "Internet of Things". In 2014, companies will have evolved their people, process, and technology enough to yield significant business value from Big Data investments. This rise of big data applications puts unprecedented pressure on storage strategies and technologies. In 2014 expect two things: 1) in-house, companies need to find a combination of robust storage hardware and software that allow for quick access to relevant information; and 2) as data storage needs increase, more companies will turn to cheaper and more available public storage cloud services to offset spiralling costs.
8. Governments' role in innovation increases – Governments will increasingly become involved in technology, investing in a broad range of applications – from home-grown innovation incubators to local manufacturing sites that create jobs and manage geopolitical risk. For example, in China, the Beijing Academy of Science and Technology has built the country's largest industrial cloud-computing platform, designed to serve small- and medium-sized enterprises in government-supported industries, including biotech, pharmaceuticals, new energy and knowledge-intensive manufacturing. In 2014, expect other governments to follow suit as this trend will drive economic growth and competitive technologies across the globe.
9. Mature app stores shift focus to proprietary apps for the enterprise – Currently people get most of their apps through online app stores. But as companies build up their mobile app development skills, there will be a shift towards developing proprietary, company-specific apps. Adoption and delivery of these apps will be facilitated by companies' private enterprise app stores. These company-created apps will enable them to include industry, geography, and role-specific features that boost productivity. These same enterprise app stores will also help regulate the use of 3rd party apps that users can install.
10. Massive open online courses (MOOCs) enable IT to keep pace with technology changes – A MOOC is a web-based class environment aimed at large-scale global participation and open access via the Internet. MOOCs have been dubbed a potentially disruptive technology trend (especially for traditional higher education). As these courses gain traction, future employees, engineers and researchers will receive a significant portion of their education through MOOCs and associated digital learning methods and tools. In 2014 this new trend will enable IT organisations to evolve their skill sets and ultimately keep pace more effectively with technology changes. Specifically, MOOCs will help IT ramp up quickly with analytics, mobile development, and agile methodologies to help with big data, consumerization, and DevOps.