CNME Editor Mark Forker, spoke to Amir Kanaan, Managing Director, Middle East, Turkey & Africa, at Kaspersky, to find out how the cybersecurity leader has established itself as one of the most reliable security vendors in the IT ecosystem.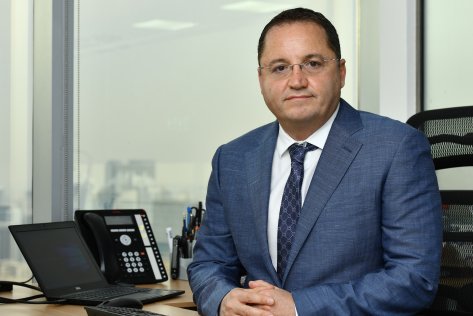 Kaspersky is the market incumbent in terms of cybersecurity software vendors globally and has been succeeding in the MENA region for more than 10 years.
The dynamic Managing Director of the global cybersecurity company has been tasked with the responsibility of growing the Kaspersky brand across the region.
In a deeply engaging discussion, he expressed his firm belief that its 'security-centric' operating system can provide the foundation required to accelerate the development of emerging verticals such as smart cities and connected cars.
According to Kanaan, Kaspersky has identified a gap in the market and is perfectly positioned to capitalise following the development if its robust operating system (OS).
"When you examine the current IT infrastructure there is an abundance of security products available on the market. However, in relation to smart cities and IoT, there is no specific security solution that is dedicated to these infrastructures. Our operating system has been created with security at its core, and we've designed it in a way that makes it unhackable," said Kanaan.
The momentum towards the adoption of connected cars continues to gather speed, but for autonomous driving to move from concept to reality, then the key factor that needs to be addressed isn't in relation to connectivity, but instead on security.
"In the current ICT ecosystem, the emphasis on the security and protection of data and information has become paramount, and rightly so. The consequences of a high-profile breach are extremely damaging both from a financial and reputational perspective. But in the context of connected cars, if the system is hacked then it will result in the loss of lives, so security has the be the most important element when talking about autonomous driving," said Kanaan.
The Kaspersky executive said the same principles apply when it comes to smart cities. The UAE government is pursuing an agenda which is designed to accelerate the development of smart cities and has made no secret of its aspirations for Dubai to become the 'smartest' city in the world.
However, just like in the context of autonomous transportation, security is yet again a huge factor that is restricting the progress of smart cities.
"There are millions and millions of connected devices out there, but none of them has been designed with security in mind. When you talk about enabling smart cities, you think of the deployment of sensors, smart traffic lights and smart parking, but similarly like connected cars, the security is not where it needs to be. However, our operating system can allow companies to start building security around their IoT products," said Kanaan.
2020 has been heralded as the year we will begin to see significant developments in the commercial deployment of 5G technologies. Expo 2020 has been tipped to be the most 'connected' place on earth. The rollout of 5G is going to lead to an exponential proliferation in the number of devices connected to the internet, so once again security needs to be the central focus.
"The advent of 5G technologies is going to lead to a huge proliferation in the number of devices that is connected to the internet. Security again needs to be of fundamental importance when it comes to next-generation networks. If you examine telecom infrastructure it's built in a way that allows it to overcome a hack on millions of devices, but I don't think it'll be able to respond or overcome a hack on billions of devices, so it's absolutely critical that 5G networks prioritise security," said Kanaan.
A recurring theme, which is a source of ongoing frustration for those in the cybersecurity industry, is the lack of awareness enterprises have when it comes to the potential impact a high-profile attack can have on their organisation.
Kanaan believes more education is needed and highlighted how a change in culture from the top down is required in order to effectively respond to a cyber-attack. The Kaspersky executive believes the mindset they need to adopt regarding an attack is not a case of if but when?
"Organisations are still far too reactive when it comes to security. You're not being proactive by simply purchasing a security product. Businesses fall victim to the idea that if they buy a security product then they are protected. The entire mindset simply needs to change, you need to ask yourself how can I protect my environment in case of an attack? What am I going to do? What are the processes and procedures? You have got to be able to minimise the damage of a security breach. You can't be of the belief that you're 100% secure. You need to be ready for an attack and have the correct set of procedures and processes established in order for you to be able to mitigate and effectively respond to the attack," said Kanaan.
Kaspersky's Threat Management and Defense platform has resonated with many in the cybersecurity market and has made a big impact. Kanaan highlighted the key features of the product that ultimately differentiates it from rival vendors.
"When we talk about the Kaspersky Threat Management and Defense platform we're talking about a combination of products and human-guided services. The unique element of the product is the holistic nature of it. It's a product that we can put on the endpoint, gateway and network. We're covering the whole infrastructure of the enterprise, but at the same time the data we're receiving from the product can help us limit the damage of the attack and provide us with additional information to carry out an effective investigation to avoid a future attack," said Kanaan.
Kaspersky has been an advocate for companies becoming what they've termed as 'cyber-immune'. The Managing Director of META at the cybersecurity vendor explains what the term 'cyber-immune' entails.
"Our operating system has been designed so we can help companies become 'cyber-immune'. The sophistication of attacks is on the increase, and so there is an obvious desire from businesses to pursue 'cyber-immunity'. But what does this mean? Cyber-immunity is calculated in the context of cost. If it's going to cost them more than it's worth, then this will inevitably deter them. We want to make it so complicated and complex that cybercriminals need to spend millions to try and hack into a system, only to come to the realisation that it's not worth it. This is our definition of cyber-immunity," said Kanaan.
Kaspersky, as aforementioned above is the market incumbent when it comes to cybersecurity vendors. It has been in the META region for more than 10 years after recognising the potential of the market, and under the innovative direction of Kanaan has thus far enjoyed remarkable success. The Kaspersky executive has attributed its success to its continued investment in R&D.
"Kaspersky is performing superbly in the META region and in 2018 we grew by 27%. The need for cybersecurity is increasing and therefore we're investing significantly in a bid to grow our brand in the region. The META region is a very important market for Kaspersky, and year-on-year we're enjoying growth and that is largely down to our investment strategy. One of the main reasons for our success is the fact that one-third of our employees are in R&D. We have a huge amount of experience in cybersecurity, and this experience is essential when you examine the current complexities in the cybersecurity landscape. We believe that enterprises want to work with us because we have so much experience in this space and are continuing to invest heavily in our R&D operations," said Kanaan.