Hyvision Technology is among the key players delivering innovative smart video surveillance solutions to businesses. In an exclusive interview, General Manager Leo Liao speaks to Anita Joseph, Editor, Security Advisor Middle East about the ever-growing smart video surveillance market and how Hyvision is making significant inroads into this key industry.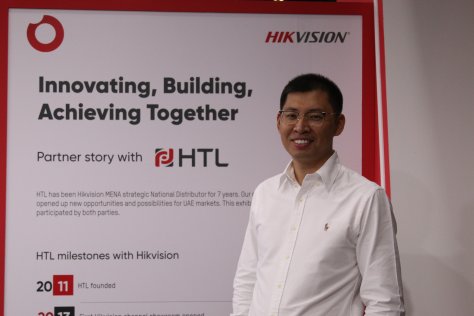 Please give us an overview of Hyvision's operations?
Hyvision Technology, also known as HTL was established in 2011 and has been in the security surveillance industry for more than a decade. We started small, but since then, we've witnessed exponential growth. In 2014, we opened our first channel showroom in UAE. The same year, we signed a strategic agreement with Hikvision and we officially began the Hyvision business. We also set up our project team. In 2017, Hyvision became the national distributor for Hikvision in UAE. The same year, we opened our Oman and Bahrain branches. Last year, in 2020, we got the best innovative award from Hikvision and continued to get it five times. The same year, we became the first Hikvision authorised centre overseas. Today, in 2021 we have our own directly-showrooms, above 13, in UAE, Oman & Bahrain, employing almost 100 people. We have achieved almost 160 million AED as sales revenue in 2021. In just ten years, our growth and success has been due to the fact that we have been able to focus on one product as opposed to many products.
Today, we have extensive industry expertise and have established a robust channel network. Our strong capabilities and vast knowledge on smart video surveillance technologies are what sets us apart in the industry. These qualities have enabled us to emerge as one of the leading value-added distributors of perimeter security products and solutions in the region.
How do you view the collaboration with Hikvision and what impact has it had on your company's growth and diversification?
We maintain a solid strategic partnership with HIKVISION and are committed to providing our clients unsurpassed products and the most effective, reliable and innovative solutions. Hikvision is the leader and a total solutions provider when it comes to video surveillance. Our partnership with them is very promising and we are able to support them in many aspects such as logistics, channel sales, project sales, marketing and technical support. We understand each other and we learn from each other.
How do you think will the video surveillance space evolve?
The security market us huge, and CCTV is a part of it. The current CCTV market value of the UAE in the last year is approximately 150 million USD. Also, because of the positive policies of the UAE and because of the Expo 2020, the demand for CCTV is rising. Interestingly, the main demand for CCTV is still for very traditional safety purposes. However, I anticipate a much bigger market in future-not just for traditional safety purposes, but also for various other purposes, like transport and retail. So yes, the CCTV market is expected to grow and become much bigger in future.
We are also witnessing a significant rise in artificial intelligence (AI) and Internet of Things technologies today. These technological trends are being integrated into smart video products and solutions. For example, there are AI cameras today, that enable facial detection, pedestrian detection, vehicle number detection, queue detection and many more.