CNME Editor Mark Forker spoke to Antonio Bocigas, Telecom Director, EMEA Lenovo at GITEX Global, to learn why he is a strong advocate of an 'open ecosystem' collaborative approach to building new services and products that generates and drives growth for telecom operators.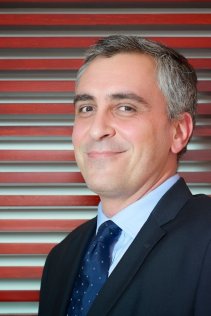 Antonio Bocigas is a veteran of the IT and telecommunications industry. He has been the Telecom Director for the EMEA region at Lenovo since 2019, and prior to that he has held high-profile roles with Cisco and Intel.
Telecom operators have witnessed the complete decimation of some of their traditional business models such as voice and SMS, triggered by the advent of OTTs like WhatsApp, Facebook Messenger and Skype.
Digital transformation is everywhere, but as we know connectivity is a fundamental component of the new experience economy that now fuels how we live, work, and learn, so that inevitably provides operators with huge opportunities to generate new revenue streams.
However, Bocigas believes that operators need to take a collaborative approach when it comes to building the products and services that their customers want in the digital economy.
"I think from a telecommunications perspective the UAE is very innovative – but we're now living in an era that can be described as 'new IT' and with that comes challenges and hurdles. The COVID-19 pandemic has accelerated digital transformation and service providers have had to embrace transformation. I firmly believe that service providers will be the drivers of transformation for so many industry verticals globally because a fundamental component in every transformation is connectivity. From my perspective I feel that service providers really need to build solutions with an ecosystem of partners, it needs to be collaborative and in partnership, because if they try to build them on their own it will be a struggle as they will lack the relevant expertise in certain areas", said Bocigas.
Bocigas also highlighted the impact edge computing and 5G is going to have for operators and stressed the importance of determining key use-cases, whilst he also outlined how the leadership shown across the Middle East fosters an environment that allows innovation to flourish.
"When you talk about edge computing you are not talking about 5 or 10 datacenters, you are talking about thousands of sites. It is a completely different business model, and it is about use-cases and not connectivity. We have 5G, but we need to determine what we are going to do with it to transform industries and really leverage the power of the technology. I really believe that in the Middle East we have a great opportunity to really lead this transformation because of the environment that the leadership cultivates across the GCC – and other service providers outside of this region are looking towards the Middle East to see what direction they are going", said Bocigas.
The Telecom Director at Lenovo said that some operators remained focused on winning the consumer battle and called for them to re-alter their thinking if they want to seize on the opportunities presented by disruptive new technologies.
"The business model for operators is critical. Operators need to determine what exactly they want to do because some of them are fully focused on winning the consumer battle, whilst others want to win the enterprise battle, but I think they need to think differently. We are trying to help operators to give them access to the key technologies at play and what the ecosystem is bringing to the table", said Bocigas.
Bocigas highlighted how he believed that an Open RAN approach is the model that operators should pursue, claiming that it allows them to become more autonomous and less dependent on traditional ICT vendors.
"Open-RAN is a different way to build networks, so instead of working with traditional vendors like Nokia, Ericsson, or Huawei they can use their own stack – and they can work with other vendors that will provide the right features for them, because if you wait on traditional vendors like Nokia you have to wait until the next release. With an Open RAN approach you can build services from the start and you can monetise them, so I firmly believe that having this open ecosystem will yield a lot of benefits and new revenue streams for service providers and this is where Lenovo can help", said Bocigas.
Lenovo is one of the most innovative companies in the world and is present in over 160 countries globally. Despite the challenges presented by the pandemic that company has illustrated the global capability to manufacture and distribute the products that our customers need.
"In January last year, despite all the challenges we faced due to the global pandemic, we were able to deliver 96% of all the products that are customers requested from us. I believe we have an incredibly broad portfolio to build the different solutions that service providers are looking for", said Bocigas.
In what was a brilliant, insightful, and engaging interview, Bocigas concluded the conversation by insisting that operators have now acknowledged that they need to move quicker when it comes to following market trends and demands.
"The Middle East region is exciting. I had a conversation with Etisalat yesterday and a key focus for them is in smart cities, whilst I also spoke to du, who expressed their exciting ideas and plans. However, at the end of the day, customers want solutions. The connectivity provided by service providers needs to be for something and it must have a purpose. I have been in this industry for 25 years, but what we are talking about now compared to 5 years ago is completely different, that's an example of the speed at which technologies are maturing, markets are changing, and demands are evolving. Traditionally, operators are a little bit like elephants, and the nature of their business models insist that they take it step-by-step. But now they know that just need to move faster and if they adopt an open ecosystem approach then they will yield the benefits of the digital economy", said Bocigas.