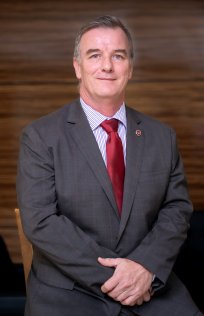 Anita Joseph caught up with Patrick Ramseyer, VP at LinkShadow, to learn more about the exciting cybersecurity solutions the company is showcasing at GITEX 2023.
Tell us about LinkShadow's presence at GITEX this year? What products are you showcasing?
GITEX is the perfect platform to showcase our Cyber Mesh Platform. It allows customers to interconnect all their security platforms and get a single view of their entire cybersecurity posture. That's what we're showcasing at GITEX this year. One of the new features we've launched is our Shadow GPT.  With Chat GPT, you need an Internet connection to use Chat GPT, and it accumulates all the data and gives you an answer. If you want to offer this in a cybersecurity context, you have to filter it down because on many occasions, you don't have an Internet connection, so you have an on-prem or air-gapped network. We've built this GPT engine ourselves. It's not from Open AI, it's a LinkShadow product. What it allows you to do is ask the LinkShadow systems, simple questions in plain text and tell us everything you wish to know about it. It saves analysts hundreds of hours in investigating solutions. This is a really niche feature we're launching here at GITEX.
How important is the Middle East region and how do you view the Threat-Security landscape here?
The Middle East is very vibrant, the people here are open to new ideas and new technologies. They're very fast, too, in adopting these, since they're able to see the real benefits. Then again, you don't have the red tape that you have in other markets, particularly around aspects like compliance. The amount of time it takes for a government entity to make a decision here as opposed to Europe, is just a third. From that perspective, the Middle East is a great place to so business. The market is growing and at LinkShadow, we see an increased demand for consolidating cybersecurity products and for consolidating security posture.
The biggest challenge in the industry today is that of skills shortage. There are three-and-a-half million potential jobs in the cybersecurity industry globally, and this points to a serious lack of skills.  You need to be able to have people who are not specialised, who can still deal with a problem. What you need is a system that shows you what the problem is, which you can then hand over to a specialist. The LinkShadow system can be handled by anyone who knows just a little IT, because it tells you what you need to know, in plain English. People really like that. It tells them clearly where to look, which tells them where and how much to focus on.