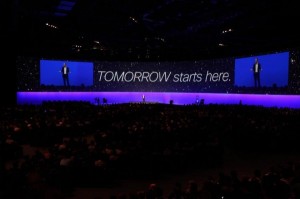 At its annual Cisco Live conference held in London, Cisco unveiled plans to cement its name as the dominant force in enterprise networking solutions.  Tom Paye reports.
When Cisco sold its home networking arm, Linksys, to rival Belkin in January, the firm said that it wanted to commit to its enterprise and service provider businesses. Having all but dominated the world of home networking for more than a decade, it was time for Cisco to step back and get its priorities straight.
The word of the day seemed simple: Cisco has a lot more to offer the world than a decent WiFi router. And, in the enterprise segment at least, the firm is becoming something of an unstoppable force, as shown by its products that seem, at first glance, way ahead of the competition.
A certain change is in the air at Cisco, then, but, as Padmasree Warrior, CTO, Cisco, noted in her keynote speech, change is happening all around the technological world. "The most significant change that amazes me is the growth in the number of devices that we use. In 1984, when Cisco was being created, there were 1,000 devices connected to the Internet. By 1992, that number became 1 million. By 2020, we expect 50 billion devices to be connected to the Internet."
The message that IT managers and CIOs had to get into their heads, she implied, was that they need to find ways to accommodate all of these devices on their networks. Indeed, much of Cisco Live was spent discussing how to better manage this exponential growth in the number of devices connecting to the Internet.
Of course, Cisco had its own solutions to this problem, and was keen to show them off at the London conference. The mantra of Unified Access is at the core of the company's plans going forward, Cisco said. This means being able to manage multiple networks through one unit and allowing any wired or wireless device safe access onto enterprise networks.
"We believe that networks need to be simpler, more secure and easier to operate," said Rob Soderbery, Senior Vice-President and General Manager of Enterprise Networking, Cisco, in his keynote speech. "But in terms of new users, and new types of devices, and all the things that come onto your network, these things are actually working against that idea. Our idea is to keep all of those devices, and the network, safe."
To this end, Soderbery previewed a new set of products that would help companies upgrade their networks so that they are easier to manage. At the core of the new product line-up, he said, is the new Unified Access Data Plane ASIC, which allows for a new architecture that converges the processing of wired and wireless traffic into a single data plane.
"We're going to converge that wired and wireless network," explained Soderbery. "The Unified Access Data Plane ASIC is at the core of our new converged wired and wireless platforms, giving you all of your wired features, and, at the same time, all of your wireless services as well."
Part of the new line-up included the new Catalyst 3850 Unified Access Switch, which delivers one physical infrastructure for wired and wireless networks, and the new 5760 Unified Access WLAN Controller, which 60Gbps performance. The 5760 can be managed through Cisco's IOS-based software, which provides information on what kinds of devices are connected to the network, how much bandwidth they use, and who they belong to.
But the ability to converge wired and wireless networks was not the only trick that Cisco had up its sleeve in London. On the second day of the conference, security was the order of the day, with the vendor releasing its annual security report and its new solutions to address the changes in security needs.
With its new range of products and vastly expanding partner ecosystem, Cisco looks set to offer great things for 2013. And judging by the professional response to its announcements at Cisco Live in London, it seems as if the vendor should get on fine without its home networking business.