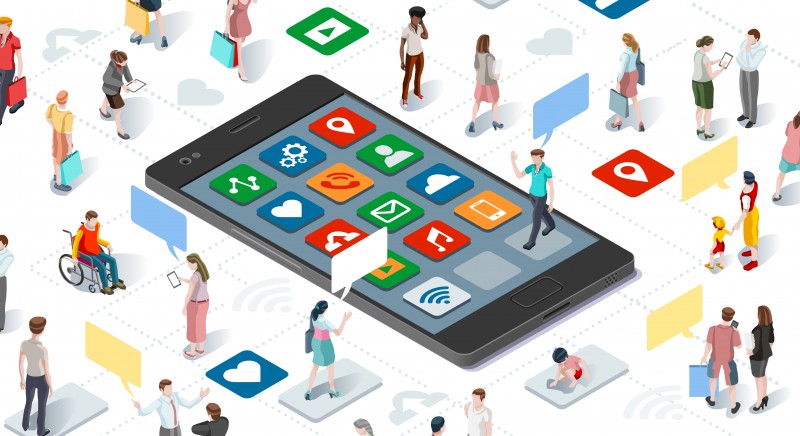 Employees across the UAE could be forgiven for scratching their heads at the ways they are expected to work in 2017. A country that is known for having a young, tech-savvy population – not to mention a relatively small physical size – would surely be one that would encourage flexible use of software across professional and personal devices.
Mobile phone usage in the UAE increased to 228.3 phones per 100 people in the first quarter of 2017, according to Telecommunications Regulatory Authority statistics. According to Gartner, meanwhile, spending on devices in the Middle East and North Africa region is set to hit $25.9 billion this year, the second-highest source of IT spend behind communication services at $108.6 billion.
However, despite the Middle East's clear affection for mobile devices, their use in the enterprise is still relatively low. The MENA enterprise application software market is expected to hit $719.4 million this year, according to IDC, representing a year-on-year increase of 5 percent on 2016, but the general feeling is that these apps are destined to be used within the four walls of the enterprise.
Prabu Balasubramanyan, executive director, TransSys Solutions, acknowledges that the sharp uptake of mobile devices within the Middle East is at odds with the levels of mobile application usage. "The region has been at the forefront of the smartphone revolution, but the enterprise applications market that addresses the specific needs of users has been slow to emerge," he says. "The workforce in the Middle East is predominantly expat-driven, and organisations expect their employees to operate from offices, which acts as an inhibitor for true mobility adoption. This is an issue, along with other factors such as the successful integration of mobile apps with diverse existing and legacy systems."
Balasubramanyan adds that one of the most important issues in shifting enterprise app usage to mobile devices will be the human touch, if new strategies are to flourish. "The employer-employee trust factor must improve, which will promote BYOD and work-from-home facilities, and that in turn will improve the adoption of enterprise mobility applications," he says. He adds that large numbers of employees already fall into the category of 'remote workers'. "An organisational mindset shift is the need of the hour in the region. Remote working is a cultural shift for many organisations. To an extent, they are willing to leverage offshore IT support, which is remote working in a sense. But business functions' outsourcing, remote working and working from home are still not encouraged in the Middle East."
Dimension Data's Middle East managing director Mechelle Buys Du Plessis, meanwhile, believes that a lack of clear strategy is currently holding organisations back from reaping the rewards of mobile-friendly technology. "To gain the benefits of mobility, or rather end-user computing – including flexibility, increased productivity and better staff engagement at a lower cost – it is important to ensure that the support exists for anytime access to services, application and data, not just from mobile phones, but from a multitude of devices," she says. "A key contributor to low adoption is the absence of planning against identified business problems and applying the right technology solution to solve them."
Perhaps the biggest driver for organisations to take action in increasing mobile enterprise apps is the positive effect it can have on employees. As staff increasingly expect the same experience from their business apps as what they receive in consumer software, allowing them the flexibility to use enterprise software through a device and location of their choosing is becoming a more necessary prospect. Offering remote work options reduces employee turnover, and leads job attrition rates to fall by over 50 percent, according to a study published by Stanford University. The report, based on stats about remote work from a China-based firm listed on NASDAQ with 16,000 employees, described the work-from-home arrangement as "highly profitable" for the company.
While many CIOs may take the stance that employees will get what they're given in terms of technology experience, others may look to deliver a more accommodating approach – and in many cases, to the benefit of their organisations. "Employees have the right to expect the same usability on their work apps as in the case of social media applications," Du Plessis says. "However, different organisations are at different maturity levels, and this needs to be assessed and understood to deliver the right adoption and experience. Some organisations may be at a non-existent maturity level, whereas others have moved through the initial, repeatable, defined, managed and optimised cycle. It is important to understand where the organisation is across its users, applications, operational excellence, devices, infrastructure and security."
Balasubramanyan goes one further, and says that empowering staff with flexible software usage should not be underestimated. "Employees' user experience should be a strategic priority, as they want applications that are intuitive and easy to work with through an engaging user interface," he says. "This helps boosts employee productivity and saves costs by reducing the need for training and support. It goes without saying that enterprise apps have catching up to do in terms of meeting this expectation."
Above all else, the main factor underpinning the relative lack of enterprise app usage on mobile devices in this region is security. Until mobile security concerns are addressed, the reality is that most organisations will be unable to transition to a remote working culture, as the threat of mobile malware looms large. The lack of clear strategy and policy is the biggest factor in dealing with this threat, according to Du Plessis. "This extends beyond smartphones, tablets, laptops to smart watches, security devices," she says. "Identifying the right starting point is key to the roadmap for transformation. Although mobile enterprise applications are available, selecting the right applications, with round-the-clock support for access is important."
Balasubramanyan acknowledges that "The fear of failure on account of security risks is one of the biggest inhibitors for regional CIO's in adopting mobility," he says. "Factors such as unknown risks, potentially inadequate investments made in security aspects like networks and peripheral security, inhibit many CIO's from extensively adopting enterprise mobility."
He goes on to add that a fundamental change in attitude to the role of mobility is needed if enterprises are to empower employees with the tools they need to work from anywhere. "Currently, mobility is seen more as an upper management tool for approvals, and one that allows them to access information while they are travelling, rather than being seen as an overall working culture," he says. "Most organisations are driven by policies that dictate what device should be used and its configuration. This also act as an inhibitor in adopting mobility, as a large-scale change of devices can involve additional CAPEX, as most organisations in the region don't really have a BYOD policy."