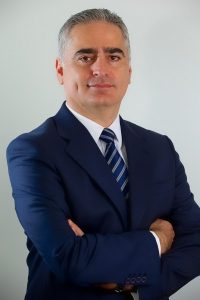 At the 37th edition of GITEX Technology Week, NetApp is aiming to help customers with their quest for digital transformation.
The data management company has recently enhanced its Data Fabric, which is now fortified with new software releases such as NetApp SolidFire Element OS, StorageGRID Webscale, ONTAP and OnCommand Insight (OCI)software.
According to the firm, as key elements to the NetApp Data Fabric, these solutions "deliver consistent and integrated hybrid cloud data services to help customers accelerate and protect data, reduce costs, and easily build next-generation data centre architectures."
Fadi Kanafani, regional director, Middle East and Africa, NetApp, says, "NetApp has developed a data fabric solution offering that consists of many product sets. We are working with Ingram Micro to push this to the market through channel partners. We want to help customers take it to the next generation of hyperconvergence."
The company is also promoting its OCI solution, which offers CIOs a "single pane of glass, allowing them to make a decision based on analytics received from their infrastructure – be it network, storage or the application layer."
At GITEX 2017, the firm is also showcasing the relationships it has established over time. Kanafani says, "At the end of the day, we owe our customers a solution, not just storage. We are exhibiting with our key partners such as Splunk and Bosch. We are demonstrating the synergies we have with our technology partners."
Operating in a two-tier model, NetApp relies on its distributors to deliver the brand across the region.
"Our distributor partner, Ingram Micro, is vital to our operations. Today we are on a trajectory with double and triple digit growth from quarter to quarter. The only way we can achieve that is when we have a committed distributor standing along side NetApp to take us to new markets. This helps us drive incremental business and provide us reach into the channel. Ingram Micro helps us add partners who are relevant to what we and our customers do," he adds.
Kanafani is looking to double the size of the organisation in 2018.
"It does sound ambitious but I'm positive it is achievable through dedicated focus and distributors who are strong with us and can develop the right partner ecosystem to take us forward."