CNME Editor Mark Forker spoke to Hidetoshi Kaneko, Head of Systems and Solutions Department at Panasonic Middle East, to find out how the Japanese electronics company is positioning itself to play a key role in the electrification of the global automotive industry, the diversification of its portfolio, its approach to sustainability – and its renewed focus on smart city solutions.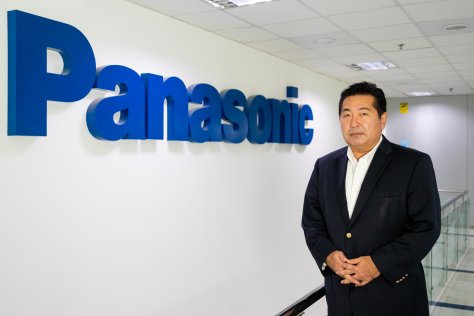 Panasonic is firmly backing the EV boom, and this was evidenced further by its recent announcement with electric car manufacturer Tesla. What role is Panasonic going to play in reshaping our future society?
Yes, Panasonic's long-term partnership with Tesla illustrates our commitment to the future of the EV industry. So far, we have produced and shipped over 3 billion cells from our Nevada-based Giga factory, and have invested in a 14th assembly line to increase capacity.
We also collaborated in a joint venture with Toyota last year to produce EV batteries as Toyota shifts from conventional gasoline-based cars to electric vehicles by 2025. We intend to expand this sales channel throughout the industry; meanwhile we are also focusing on developing a new generation solid state battery to replace the lithium-ion currently being produced.
As the CE Show made it very clear and with the recent announcement from Apple, EV technologies will eventually overtake the car industry and will continue to evolve over the next decade. And you can count on the fact that Panasonic will continue as a leader in this field.
Panasonic has been aggressive in terms of its approach to R&D and has invested in futuristic technologies such as robotics and automation. However, can you tell us about the recent initiative you launched which tested the acceptance of automatic delivery robots in Japan?

Yes, the growth of e-commerce and the increase in demand for home delivery services, have created a serious shortage of home delivery staff to supply the demand. There is also an urgent need to address the "new normal" that includes contactless interactions.
Recognising this, the Fujisawa Sustainable Smart Town in Fujisawa city in Japan and Panasonic began testing a compact, low-speed residential delivery service EV robot in November 2020. The self-driving robots are expected to "go live", making deliveries beginning this February.
We intend and expect that this new service in which people and robots work together will contribute to more vibrant communities.
Because we are one of the very few manufacturers who provide holistic indoor and outdoor solutions from the standpoint of energy control, safety, security, comfort and other aspects of necessary life-enhancing factors, Panasonic has been a key driver of the success of the Smart City operation.
So, in the Middle East, working with smart-city owners is one of the key business strategies that we are promoting in 2021 and for the years to come.
Panasonic has already documented its focus to the B2B sector with investments in key industry verticals such as education, remote healthcare, and the automotive sectors, but how does Panasonic plan to broaden and diversifying its brand strategy over the coming years?
Let me touch on remote education and healthcare because I already touched on our involvement in the automotive industry.
First off, with respect to remote education, one of the key factors is how we can mimic the live environment, which is created by teachers and students and recreate it in the online environment.
Panasonic has been a leader in the broadcast industry and in that role, we have been an Olympic sponsor since 1988: many of the cutting-edge broadcasting technologies being used in our remote cameras can be used in a classroom environment.
A teacher can conduct their class without having to be conscious of the camera because our cameras can be pre-set for automatic tracking, panning, tilting – and zooming for pre-registered teachers. This makes the operations very easy and allows students to participate in a class via either a laptop or mobile device.
The software we offer captures all lectures and it makes it easy for students and teachers to send a video clip once the session is over; and the students benefit from the rich functions including word search for any word spoken in a lecture.
In the Middle East & African region, we are working with many schools and universities to make remote education more efficient.
With respect to Healthcare, our focus in this region is on robotics. Panasonic has been an early adopter of robotics: already a decade ago, we launched the first generation of what we call "HOSPI".  HOSPI is essentially a robot with AI and autonomous driving capabilities.
The robot weighs 170 kg, is 140cm tall, and looks like a walking doll with a cute face. It detects and avoids obstacles while driving to a pre-set destination point, requiring no human interaction.
In the Middle Eastern and African region, we have been selling this type of robot to hospitals and we intend to expand the business because we firmly believe this type of robotics will further expand contactless operations which are essential in the hospital environment.
The typical use-cases in the hospitals may include transporting medicines and blood samples from one location to another, guiding patients from the reception area to a designated room, spraying disinfectants to kill germs, bacteria and viruses as HOSPI walks around the hospital floors and lastly, it provides the ability for doctors and nurses to be able to communicate with a patient remotely.
Regarding any new technologies that Panasonic has introduced or may introduce in the future, we are trying to bring them into this region if the demand is there.
Can you provide us with more information on your approach to sustainability – and some of the solutions that you have designed for smart cities, energy, security, and mobility connected with IoT?
In terms of smart city solutions, Panasonic is focusing on security in this region. We have a strong lineup of security systems for both residential and control rooms applications.
We have state-of-the-art video intercom systems that can be installed in villas, duplexes, and compounds and plan to make the entire system IoT-enabled.
It can be controlled by a smart phone application called "MirAIe" – a Japanese phrase which may be literally translated as "toward the future."
This is the second region after India that is adopting this new IoT platform. The strength of this software is that it is connected to Amazon Echo, Google Assistant and in the fact that we are proposing inhouse solutions varying from security systems, IoT-enabled appliances, lighting switch control, vent fans, air conditioners, air purifiers, solar panels and many other in-house products that we offer.
Altogether it will help the end-users ensure the ultimate comfort, safety and security of their living environment. We are one of the very few companies globally which can supply all the components of these indoor and outdoor solutions from a smart city standpoint.  No one brand can do what we can do.
If you are part of the facility management team that manages retail stores, malls, theaters, restaurants, libraries, parking lots and others in the smart city environment, Panasonic can provide both the software and hardware for AV solutions for your control room.
Some of the current solutions that we provide include mask detection, social distancing detection, traffic management, parking lot management, and face recognition, among many others.
Panasonic has vast experience in providing smart-city solutions in various parts of the world: Fujisawa Japan and some parts of the USA, for example, and our plan is to do so in Saudi Arabia, UAE and other countries in this region.