For the Middle East telecom market, 2017 could be a year of opportunities with the rise of IoT and digital services.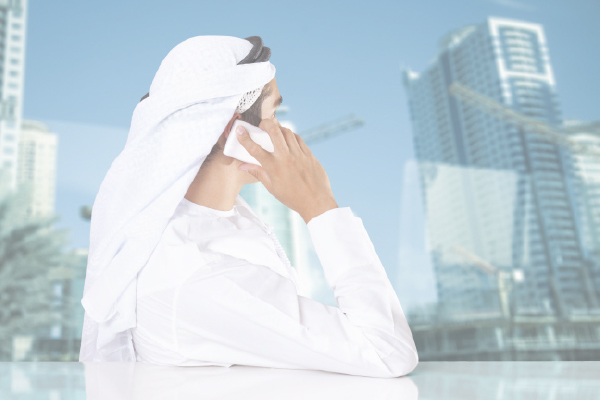 With a favourable regulatory environment and a spirit of innovation, the regional telecom sector is one of the fastest-growing telecom markets in the world. Mobile and fixed data services continue to drive revenue growth in the region with mobile voice still accounting for the large chunk of revenues for service providers.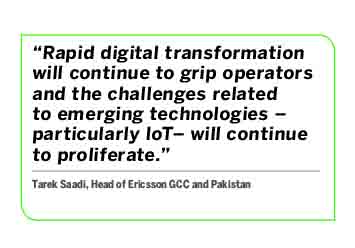 Though the telecom sector contributes significantly to the GDP of regional economies, the prevailing uncertainty around global crude prices has resulted in a cautious investment environment in this major vertical. However, industry pundits expect regional telecom operators to continue to make critical network investments to capture the growing demand for data services, digital services and IoT.
What will be the new challenges and growth opportunities for telecom service providers in 2017? "Increasing smartphone adoption has led to a tremendous increase in data traffic," says Aji Ed, Head of Technology, Nokia. "This trend will continue through 2017. Operators need to make the infrastructure ready for traffic growth. They will need to launch ultra-fast LTE 4.5G Pro and 4.9G networks next year and beyond, and carry out 5G tests to prepare themselves for the data deluge in the coming years."
Tarek Saadi, head of Ericsson GCC and Pakistan, says rapid digital transformation will continue to grip operators, and the challenges related to emerging technologies – particularly IoT – will continue to proliferate.
"Realising the full benefits of the IoT will be a collaborative effort across industries," he says. "Challenges such as data security, privacy, interoperability and information management in the IoT can only be effectively addressed through a common approach. Tackling these challenges will require tools such as network slicing, trusted computing and alternative ways of handling user identities," he adds.
However, these challenges are also opening doors of opportunity for new use cases in which connectivity is tailored to the needs of specific industries. For the IoT and 5G to become end-to-end network realities, the core network will need to evolve to support new services. A 5G-ready core that supports network function virtualisation (NFV), software-defined networking (SDN), distributed cloud, network slicing, and service management and orchestration (MANO) will enable operators to capture these opportunities.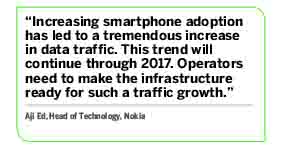 With ICT becoming a business enabler for enterprises in a range of industries, telcos have a great opportunity to cash in on this opportunity with innovative offerings. However, there are a few factors they need to be mindful of while planning for growth.
"Telecom operators are quite aware of the fact that healthy growth in data services does not necessarily translate in to healthy growth of the ARPU, constantly putting pressure on the operators' operational expenses (OPEX)," says Paul Black, director of Telecoms, Media and IoT, IDC Middle East. "This is leaving operators with no option but to constantly upgrade their networks. With lingering economic uncertainties, telecom operators should turn their investments in to the most critical areas such as increasing the network optimisation. This can be achieved through select investments of their networks using a combination of NFV and SDN technologies rather than completely upgrading their existing networks."
Saadi from Ericsson says operators should look to minimise the time required to introduce new services and improved customer experiences. "Technologies such as SDN and NFV support the transformation of networks into global, cloud-based networks that enable agility and automation are essential components that enhance the customer journey in tandem with the network itself. These offerings are essential to help drive business growth, and can positively impact the economy of the country the operator is operating in."
Industry watchers say the regional telcos should also look to get on the 5G bandwagon and start the trials next year. 5G stakeholders, which include silicon giants such as Qualcomm and Intel, and infrastructure vendors such as Ericsson and Nokia, have been bullish on the technology's rapid advance, announcing numerous breakthroughs and field trials over the past few months.
"Although 5G may sound like a farsighted term, technologically, it is already in the making," Black says. "Operators must start doing the necessary groundwork for facilitating a smooth transition from the existing 4G or 4.5G technologies to the 5G technology over the next three years."
As 5G technology is expected to come up with totally new features such as carrier aggregation, virtualisation of mobile networks, integration with unlicensed airwaves and Wi-Fi networks, operators should be able to preempt the impact that it is going to have on the future business models, Black adds.
In addition to a radical rethinking of business models, operators should also start thinking about the skillset needs to support such technologies, as well as making the necessary investments in supporting systems and processes required to carry out the services. Additionally, on the network side, they should start thinking about ways to virtualise their networks and explore ways to synergise their other networks such as NB-IOT and Wi-Fi networks with their future cellular networks.
5G represents the next big step in mobile communication technologies. The networks of the future will have to support the Internet of Things, and guaranteeing quality of service will be essential for connected devices to operate safely and properly. Cities deploying real-time traffic management systems, for instance, must be able to trust the network to be responsive at all times. New scenarios will also arise that require even more granular management – communications between connected cars for crash avoidance or navigation should have a higher priority than hourly updates from smart electricity meters.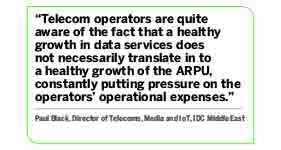 "Prescriptive and strict net neutrality rules risk delaying the introduction of these crucial innovations," Saadi says. "This is why preparing for 5G now is imperative, and operators who haven't yet done so, should start making investments into 5G use cases. Ericsson's Mobility Report predicts that by 2022, the region is expected to have around 20 million 5G subscribers with the first 5G deployments anticipated to be in the GCC countries, Turkey and Lebanon. 5G will help operators monetise by improving efficiency gains or through new use cases in various vertical segments, such as oil and gas, transport and Smart Cities."
Ed from Nokia adds that 5G pre-standard systems will be available from 2017 which can support 5G fixed wireless services. "In 2018, the Korea Winter Olympics will see the first mobility use cases of 5G implemented using pre-standard systems. 5G commercial systems are expected to be operational by the 2020 Tokyo Olympics. In the Middle East, telcos are making plans for 5G deployments in 2020 and beyond. The first deployments of 5G in the region are expected to be around major events like Expo 2020 in UAE and the Qatar 2022 World Cup. Nokia is already collaborating with all the major operators in the Middle East to help them get ready for 5G."
The accepted timeline for 5G's general availability sees the standards work completed by 2018 or 2019, and customer deployment by 2020, yet estimates differ. But it seems clear that 5G is under more intense development than ever before – while there's a long way to go before it hits the consumer market, the major stakeholders have the technology uppermost in their minds, and large-scale testing is well and truly under way.