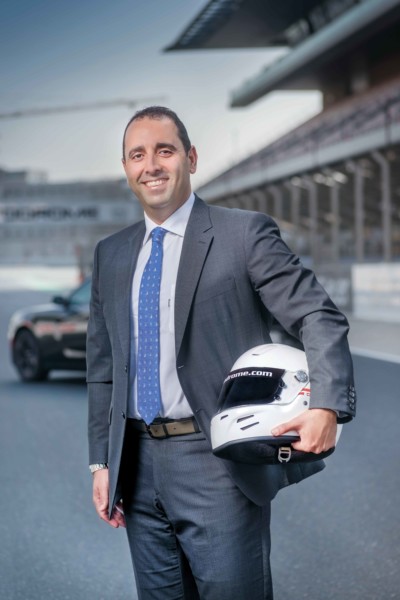 Janees Reghelini speaks to the new Channel Sales Director for Dell EMC's partner-led business in META, Havier Haddad, to learn how resellers can win the race by taking advantage of the new company's combined strength.
Any petrolhead knows the overwhelming excitement at the start line. The smell of petrol, the rev of engines, the adrenaline. That's the atmosphere Dell EMC wants to create for its partner community as it begins its new journey following the largest technology merger in history. The firm's new Channel Sales Director for META, Havier Haddad, suggested we meet at Dubai Autodrome to attempt to capture some of this excitement.
When two large conglomerates decide to come together, the amount of work required to integrate teams and sort minute details, is an unimaginable, mammoth task. Haddad's first order of business was around 'readiness' – ensuring the teams are put together wisely to reflect the company's goals one year down the line.
He says, "My first priority was to build the team. Although a challenging task, we are proud to have chosen executives who we believe can take the channel in the META region to the next level."
It was also crucial to understand and define the new combined partner ecosystem's character. The company aims to outline customer requirements clearly and put in place a detailed coverage strategy to guide partners to achieve "maximum coverage with minimum conflicts".
Haddad urges partners to understand the opportunity that arises with both companies joining forces.
"Partners should realise that they are now looking at a new company with a fresh portfolio of products and solutions. The market opportunity is enormous in terms of the leverage this new portfolio is giving us and this too is a part of 'readiness'."
Dell EMC's strengths and challenges are now very different from what its separate legacy firms used to face. This is what its current partner ecosystem need to understand and build on.
"From the strengths perspective, I don't think there is any other company in the industry who can compare to what we can offer today on several fronts such as solutions, commitment, R&D and talent. Also, we are not seeing the leaders being replaced with the merger but instead are given opportunities to lead new initiatives. This is further cementing the confidence within our partner community."
The challenge is that the power of the joint company attracts fierce competition.
"The bar is being raised to higher levels and we feel the responsibility," says Haddad.
However, this is also an encouraging factor. Over the course of this year, we will see the firm rolling out a number of technical enablement initiatives and workshops to assist partners in proposing new solutions to customers to stay ahead of competition.
"We are enhancing our training facilities and portfolio. We are conducting soft skill and product trainings while also holding sessions on solution selling. Our partners go through the same trainings that is done internally for our staff," he adds.
Historically, we have seen legacy Dell lead heavily on volume-based distribution, which means extensive coverage to reach out to both B2B and B2C customers. Whereas legacy EMC was all about value-added distribution. Another element to Haddad's 'readiness' approach was defining the new distribution landscape.
He adds, "Our distribution ecosystem will now be differentiated into two – volume and value. Both will be treated as our extended workforce. The value-added distributors will drive everything from pre and post sales, marketing, developing business plans and doing QBRs with partners. We will also create plans to extend the coverage through different angles such as by covering technologies, industries and new types of businesses, together from value and volume fronts.
"We cannot do without our distributors who really take the products and solutions to market and can offer the reach and drive, especially for our diversified territories."
The company has also launched its new partner programme towards the end of last year, which formally becomes effective from this month. Centred around three pillars – to be simple, profitable and predictable – the programme is designed to comprehensively cover all types of partnerships such as current and new resellers, service providers, alliances and systems integrators.
"Through this programme, partners will be incentivised on several criteria such as acquiring new customers, being committed, leveraging our complete portfolio and increasing the volume of business," he adds.
According to Haddad, partners who are not working on building their differentiators to excel in the digital era will find it harder to grow their business. To stand out, they should be attaining certifications, attaching services and adding value to their offering.
"This is also why our role is important. We need to be trusted advisors for our partners and guide them towards the market opportunity."
There are three aspects to keep in mind when talking to partners. First is ensuring there is profitability for them. The second one is making sure partners have what customers need.
He adds, "We might have the best solutions in the world but if it is not what our customers want then it is a futile exercise. And the third part is understanding that partners will only sell what they know. If they are unaware of the solutions that we have around hyper-convergence, then they will not sell it. We have an opportunity here to enable and train them."
In the coming months, Haddad urges the partner community to bet on Dell EMC.
"Seize the opportunities and be the early adopter of the new portfolio and solutions," he adds.