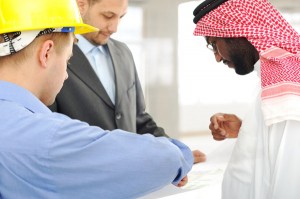 The Middle East is a strong growth market with a knack to leap-frogging technology and delivering impressive implementations. CIOs have been deploying solutions and applications which are keeping the region relevant, and though most global brands have a presence here, the landscape owes much to locality.
The Middle East has bred local talent through rapid growth of IT infrastructure and demand for technology. IT has further evolved into an embraced culture that penetrates socio-economics and increasingly utilises technology for personal and business use, making more people tech-savvy.
The region continues to see an influx of internationals, but the local pool is still filling up and end-users are becoming ever more confident with resources closer to home. Moreover, some local companies may be more inclined to reach out to local integrators which demonstrate cultural knowledge and understanding. This adds another dimension to the integrations landscape.
"Regional and local experience proves to be an added advantage for local integrators, as there is more ease in the implementation process, and also helps in easily managing multiple stakeholders and their requirements," says Anurag Verma, Telecom Operations and Managed Services Lead, Smartworld.
"Also, the experience of executing local projects makes it easy for these integrators to manage cross-cultural influences easily. For the local economy, it helps in training and building local talent and generates local employment opportunities."
In a growth region, local integrators would be wise to tap into behavioural aspects that would benefit locality.
"Knowledge of the local market and its unique characteristics, understanding the behavioural aspects of the customer relationship, presence and close proximity to customers, and the ability to provide post-delivery support, are parameters that stack up in favour of a local integrator," says Seyed Golkar, Director of Business Solutions, GBM.
He focuses on these four examples in detail. In terms of knowledge of the local market and its unique characteristics, he says we often see that pressure, imposed by the business, forces the customers to engage integrators, while the business requirements are still fluid and not very well thought-through. Because of this, agreed-upon requirements and set definitions about the scope often change at the expense of the project timeline. Local integrators understand this and know that earlier engagement minimises this risk.
The next point he covers is the behavioural aspects of the customer relationship, which he says in order to successfully operate in the region, an integrator must have a degree of flexibility and patience at times beyond the norm in other regions — in particular, the West. Local integratos have a much better understanding of this behavioural aspect of the customer relationship. They are therefore better equipped to work with the customers in order to satisfy their needs and desires in ways that a Middle East customer sees as flexible and customer-friendly.
Thirdly comes benefiting from internationally accepted best practices and procedures. He believes that an experienced local integrator can blend these skills with the internationally accepted best practices and procedures, thus delivering the best of both worlds to its customers.
And lastly, Golkar discusses post-delivery support. He claims that there is a tendency to think an integrator's job is finished when the system is delivered and is in production use. From a customer's perspective, on the other hand, delivery and go-live is only a stepping stone to getting a system that helps to address a specific business need. In other words, life only begins when the system goes live.
The ability to give the customer the support and attention during this important stage is vitally important for an integrator, he says. A local integrator is much better positioned to respond to this need.
Cultural challenges
Of course, regionally speaking, customers in the Middle East will face challenges unique to the region — whether that be based on infrastructure, legislation, or legacy. But Verma feels like this has helped the Middle East to adapt to new standards.
"The Middle East, as with all other regions, has challenges that are known and understood by its regional players. Amidst this, the dedication to grow and further develop has been the key aspect that has driven this region to curb the challenges and adapt cohesive measures to achieve short-term as well as long-term goals. Therefore, the economies of scale are considered when putting together the achievement plans," he states.
He adds, "Integrations is a continuous learning process, accompanied by challenges that have been perceived and eventually minimised or absorbed, like the feasibility of market share and resources to deploy and deliver services.
"Having established itself in the IT market and bringing the key market players closer to the region today, local integrators enjoy the benefits from major improvements of means and processes. This has also introduced tools that transform work plans to another level. The increased capacity and demand will bring in more challenges that will continue to be scrutinised and absorbed as we move forward."
Let the right ones in
However, there may be a concern that ease of market entrance could cause complacency, the experts say. This could ultimately lead to poor practices and complications in business.
"Easy access to the local market has allowed inexperienced companies to establish a local presence and start to offer services that are often insufficient to meet the needs of the customers," Golkar says.
"Underestimating the complexities and intricacies involved in delivering solutions to customers in this market will mean such companies get into contracts at prices that are just too low for delivery of a quality service. Naturally, some customers fall for this and, unfortunately, end up paying dearly in the long run due to lost time, delays in realising business benefits, and engaging in the vicious start-stop-restart cycles. My advice is to pay the right price for the right quality of service at the beginning, and get it right the first go — paying less, but multiple times, is just a false economy."
Growth of local confidence
"Simply put, customer needs are customer needs, and as technology advances to claiming more market share, they are now putting their trust and confidence on the local market — a decision that is based on the excellent performance that they have seen in the local scene," Verma states.
This has built more trust for customers to prefer local providers since they can understand the region's requirements and would be able to deliver services more swiftly and unequivocally. Providers in the region are seeing more and more success, and this is set to continue growing as more complex technologies announce themselves and local customers want trusted and loyal integrators who know the infrastructure, know the legislation and know the culture.
Golkar concludes: "Customers in this region are starting to appreciate the local talent, which, supplemented with international talent and experience, forms the critical ingredient for a successful development of the local intellect."