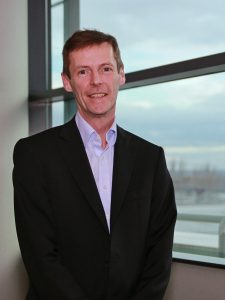 McAfee has officially announced that it has begun operations as a standalone cybersecurity firm, post TPG's purchase of the business from Intel in a private equity deal for $4.2 billion end of last year. The independent company will now be one of the largest pure-play cybersecurity firms globally. The joint-owners, TPG and Intel, expects the new entity to capitalise on significant global growth opportunities through greater focus and targeted investment.
Speaking exclusively to Reseller ME, David Small, VP EMEA Channel, McAfee, says the "rebirth of McAfee is good news" for channel partners.
"Our partner strategy will continue to remain consistent and there will not be any significant changes as far as our channel ecosystem is concerned.
"We have communicated to our partners about the rebranding and what our expectations will be from them in terms of certifications and bookings to hit their qualifications for 2018. We have made it a point to be transparent with our partners," he says.
Vimal Kocher, MD, Middle East, Arrow ECS, says McAfee is a well-known trusted brand  and is not a new name for the firm's channel partners and customers.
"We, at Arrow, believe that with new McAfee, there will be more focus than ever before, with their singular mission of protecting all that matters to those who matter most to us. It's a new beginning and we are confident that together with new McAfee's product portfolio, our customers and partners will only succeed in the market," he adds.
According to Small, although the company gained as a business unit within Intel, it was constrained in certain operational ways.
"Today, we are more flexible to be agile in terms of what we do in the market, how we operate and what products we can include in our portfolio," he adds.
The company is looking to bring in more products and solutions for partners to sell as this will create bigger channel opportunities.
Small says, "We will continue to expand our network with all the people we work with through our integration story and through OpenDXL, which is a platform where we work with other vendors. Partners have a huge opportunity to offer customers comprehensive solutions."
Going forward, we will see the company pivoting towards cloud.
"We are already seeing some regional partners adopting and utilising cloud to augment our security solutions. This will be a core focus for us and we are helping our partners to optimise the prospects present here."
Small adds that one of the changes that the company is bringing about is encouraging its Platinum partners to add a service delivery specialisation.
"This is to effectively recognise our partner's ability to implement a solution in the same way our own professional services teams would do. We want to ensure our customers get the possible security solutions and to achieve this we are asking our top partners to become accredited in service delivery specialisation."
To sum up, over the coming months, partners can expect business as usual from the cybersecurity firm.