NAS devices may seem too technical for the uninitiated but the Synology DiskStation DS418play makes it simple enough for just about anybody to use.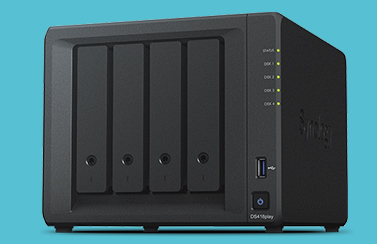 Network Attached Storage devices, while increasingly becoming relevant, are simply not something most consumers think of when it comes to their tech needs.
However, as our way of life become more digitised, our everyday data are taking up too much space amplifying the need for a reliable, affordable and user-friendly storage device.
Enter a NAS – an economical storage device, which consumers can easily set up at home.
Synology is among the forerunning NAS vendors. Among its latest offering is the Synology DiskStation DS418play, which offers flexibility within an easy to install and configure interface.
The new DS418play is a 4-bay NAS device that is specifically designed for storing heavy multimedia data, especially high definition videos.
The device does not ship with any hard drives, like most NAS type products, giving users the flexibility to fill it as they see fit depending on their storage needs. The DS418play measures at 166 x 199 x 223 mm with a standalone weight of 2.23kg, sans the drives.
On the rear, the dual Gigabit Ethernet can be found right next to each other. It is not necessary to utilise both ports, but it gives users the ability to create a failback connection or aggregate the connection. The USB 3.0 port is also located at the back of the device, which can be used to add an external backup drive. There is a 4-pin power connector port as well.
This latest entrant in Synology's "play" series is equipped with Dual-Core CPU which bursts up to 2.5GHz and offers 4k Ultra HD video trans-coding. It is equipped with 2GB of DDR3L RAM and could be easily upgraded to 6GB of DDR3L RAM to boosts overall performance.
It's easy to mount the drives on the DiskStation, just pop open the bays that you need and slide the drives into place. Installing a 3.5-inch drive doesn't require any screws, and is quick and simple. But if you are using a 2.5-inch drive you need to mount them with the included screws.
Once it's powered up, you can simply open your browser and go to http://find.synology.com to begin the DiskStation Manager software installation. The installation procedure is really simple matter of plugging everything in and firing up Synology's web-based interface, which should kick into gear as long as your computer and the Synology DS418play are on the same local network.
DS418play makes digital media management, and video streaming effortless. The DSM is definitely a big plus as it allows you sync your data down to the NAS directly from the cloud in a breeze.
More than storage, the DS418play is also equipped with applications that can help you organise your files better. It has the Video Station, which lets you can organise personal digital video library with comprehensive media information, and watch 4K Ultra HD movies and films. The intuitive design of Photo Station allows you to effortlessly archive photos into customized categories and link them to your social networking websites within a few clicks. For audiophile, it has the Audio Station which comes with Internet radio and provides music playback via DLNA and AirPlay compliant devices.
The NAS also allows you to access your data anytime, anywhere. It supports various mobile applications such as DS photo, DS audio and DS video among others, allowing users to remotely and seamlessly access their multimedia library even when on the go.
Aside from the noisy fans, there's little criticism to be said about the Synology DS418play. Whether you are an ultra-HD multimedia enthusiast or a small business owner that needs a reliable storage device the DS418play could work very well for you.