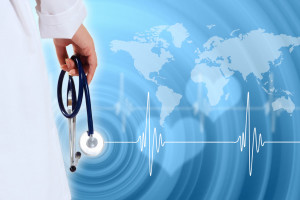 Modern healthcare is increasingly becoming dependent on hi-tech IT systems and solutions. Reseller ME investigates why partners should align their focus to this sector and explores the channel opportunities present.
Technology has revolutionised most regional sectors to a previously unimaginable level. While the use of technology is apparent in verticals such as banking and government, the demand for changing existing processes with advances in technology is higher today in sectors such as education and healthcare.
Earlier in the year, Gartner forecasted that healthcare providers in the Middle East and Africa region will spend $2.8 billion on IT products and services in 2014. This is an increase of 2.8 percent over 2013 revenues, which itself conveys the whole story.
The opportunities in the regional healthcare sector for IT solution providers is infinite, considering the demand and growth of the vertical. Technology is changing the relationships between doctors and patients. From electronic medical records, remote access of patients' medical history and information on smart devices, network security, video collaboration, storing medical data to offering seamless Internet connection for patients to browse and help with recuperation, there really isn't any area where technology won't have an impact in the healthcare sector.
According to Wael Abdulal, Collaboration Manager, Cisco UAE, in the coming years we will increasingly see healthcare institutions and providers utilising care-at-a distance technology to connect patients in Turkey with physicians or specialists in the US or the Far East, for vital healthcare consultations. "These are applications that are happening right here, right now, and the technology and its use-cases are only going to become more immersive and effective in the healthcare sector," he adds.
With a more connected environment in the region, Abdulal says there is a potential for heart-rate monitors and sensors implanted in clothing to record diabetic sugar levels which will help in curating a single electronic patient record that will eliminate a manual approach to tests, and this data-driven patient management will result in improved healthcare effectiveness and efficiencies.
Indeed, modern technology has changed the structure and organisation of the entire medical field and continues to be a disruptive force, says Noman Qadir, Director, Channel, Middle East & Africa, Citrix. "In the UAE alone, IT spending in healthcare reached an estimated $16.8 billion in 2013 and is expected to grow at a compound annual growth rate (CAGR) of over 16 percent through 2014 according to a report by US-UAE Business Council," he says. "Given the highly mobile nature of the jobs of healthcare providers, it is important that they have an effective way to collaborate while protecting patient privacy and data security."
According to Maya Zakhour, Channel Director, Middle East, Fortinet, the transition towards more patient-centric care and decentralised monitoring means providers, patients and payers need to access information that originates outside the hospital setting. "The trends toward personalised medicine, prevention, and wellness means stakeholders need to connect information from various points within the healthcare value chain − including providers, laboratories, payers, and patients. The more this private information is opened to outside entities, the greater the chance that these systems can be compromised either intentionally or accidently."
Zakhour further says that the sensitivity of patient information has created the need for end-to-end security solutions throughout the entire healthcare network, right from doctors' offices all the way to the hospital data centre. "Only with security as the foundation can healthcare organisations build IT services and applications that meet the requirements of the business and healthcare mandates. Healthcare is also a growing segment in the region, and this presents tremendous growth opportunities for the channel to help provide."
When it comes to offering services by the channel, it doesn't stop at security, BYOD or networking solutions. Stefan Sommer, Director Marketing & Business Management EMEA, MMD, a multimedia display manufacturer, says, "We are covering display solutions for the clinical review. For this field we see anti-bacterial materials, DICOM appliance and special medical power supply as main features in particular for the clinical review sector." He also says channel partners can make the most of these opportunities by equipping themselves with appropriate knowledge about clinical review monitors.
Channel prospects
Today, the challenge the healthcare industry is facing is the fact that most of the processes and existing technologies function are siloed. Healthcare IT infrastructures are spread across disparate locations, making IT operations and security management a highly complex task.
Maged Eid, Regional Director, Nexthink, says while IT tools and solutions need to be readily available to healthcare providers, they also need to be secure and protected at the same time. "The risks from issues of downtime or non-compliance of security policies are not only financial – patient lives can depend on this."
And this is where channel partners can make all the difference, identifying areas to bring in seamless integration. Although the potential in healthcare for the regional channel appears to be vast, do partners know how to go about optimising these opportunities? Most industry experts say no, they believe channel partners are not going about these prospects in the right way. They need to go beyond the norm to stand out.
Qadir from Citrix agrees and says that with major transitions taking place in the healthcare industry, channel partners definitely have unique opportunities to evolve their business models and offer more value to their customers. "And at the same time, they can differentiate themselves and grow profitably. In addition, partners can approach healthcare facilities with robust technology solutions that will help companies embrace mobile work styles to improve both patient care and organisational performance," he adds.
It is clear that channel partners need to be innovative in their approach to beat competition in this market. And in order to do that, the first step is to educate themselves about the market potential. Partners should understand in what areas a particular technology can prove to save costs for a healthcare organisation and be able to advice that to the decision-maker effectively.
"The competition is often fierce, but we support our partners with beneficial pricing and on the technical side, we have a team of dedicated pre-sales and after-sales technical consultants and engineers, who can really help in overcoming most of the obstacles. We conduct regular trainings on a quarterly basis to equip our partners with the latest up-to-date technology and trends, so they can approach potential clients with full confidence," explains Sakkeer Hussain, Sales and Marketing Director, D-Link Middle East & Africa. "Regular participation in our trainings on new product standards and technologies help our partners to pitch the right products in this vertical. With our cost-efficient solutions, our end-customers will be satisfied, too, as they realise better returns on their investments."
Eid from Nexthink, believes channel partners must provide technology and solutions that improve patient care, maximise performance, manage risks, and enhance operating efficiency across the entire patient care cycle. "The challenge for healthcare organisations is to make sense of the massive amounts of clinical, financial, and operational data generated each day across their IT infrastructure and endpoints," he says. And partners offering IT analytics solutions that can deliver on the promise of providing actionable insight and predictive capabilities can help make healthcare IT departments more efficient. "This in turn results in the delivery of high quality patient care and improved patient satisfaction," he adds.
Regular trainings and education programmes are tools which will help partners sustain business in this sector. Understanding this, Polycom, a video, voice and content collaboration and communication technology provider, offers free online training and enablement resources that are designed to help its channel partners identify propositions in the healthcare sector which can align with their business objectives. "All our partners also have access to Polycom's dedicated partner portal and marketing resources to help them market our solutions. In addition, we have a dedicated team of healthcare technology experts to help with customer engagements and a wealth of healthcare marketing material that is made readily available to partners," explains Andrew Graley, Director, Healthcare, Education & Government, Polycom EMEA.
The future of the healthcare sector in the region is bright with extensive growth forecasted for it. Channel partners need to look at this vertical with a specific focus and devise effective strategies to make an impact and stand out from the competition.