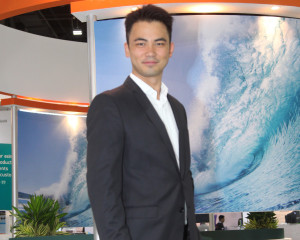 Sean Tang, VP of International Business, Laserfiche International, aims at working even more closely with users and partners in the region.
Present regionally for over the last 15 years, Laserfiche International aims to continue its focus on improving and growing its product suite.  One of the main highlights for the company at this year's GITEX Technology Week was its social business process management platform called Laserfiche Answers, which combines social media with enterprise content management. Through this solution, users can create Laserfiche accounts and create their own avatar and profiles and have the opportunity to chat with each other.
"Social business process management has been started within the Laserfiche community. We previewed this solution at GITEX this year. We look at how social media can actually integrate enterprise content management. The relationship between the two is something we are highlighting," says Sean Tang, VP of International Business, Laserfiche International.
This year the software manufacturer had its sole distributor for the MENA region, BMB Distribution and other reseller partners displaying their product portfolios at its stand.
Over the years, the vendor has built a robust customer profile and has developed a strong community. According to Tang, the company, in addition to focusing on the products, has also been focusing on its involvement with the community. In the beginning of the year, it hosted regional conferences for users and partners to converse about the company and exchange ideas and views. "It is really about how to use the tools, how to use our solutions in businesses. We have been gathering our users, promoting communication between them on how to use our products and solutions and we have been hosting training seminars. These events were directly organised along with our partners in the region. We are also planning to do one in Saudi Arabia and another in Bahrain later in the year. We want to as a community get more and more involved locally working with our users."
He adds that the company is constantly on the lookout for new trends and also analyses how those trends can fit into its existing product suite and bring value on a daily life to organisations and help people work and collaborate on a daily basis with content.
"From a company perspective, we are actively looking at promoting and growing the Laserfiche community in the Gulf region. Over the past 15 years, we have seen immense opportunities and we continue to see a huge potential in this market," added Tang. "As the market is opening up and as technologies are becoming more user friendly, more opportunities will arise for companies to add a solution like Laserfiche to their product portfolio so that they can add a new value to their customers."