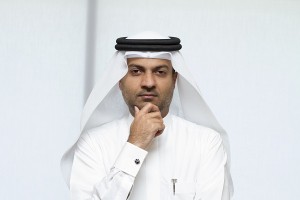 Upon graduating from university with a bachelor of science in computer engineering, Ali Sajwani was thinking about his future. While many people in his position are still unsure what they want to do with their lives, Sajwani's thoughts were clear. He wanted to be a CIO, and he was determined he would do it within 10 years.
You can't fault a young man's ambition, and in Sajwani's case, you can't fault his courage, either. However, you might question the sanity of someone who moves from dry and sunny Sharjah to spend five years in a city that rains 11 months of the year.
But that's exactly what he did, and he still values his years at the University of Washington in Seattle, USA, as a time which not only taught him about software and hardware, but how to mix with people from different cultures.
"For me, moving to Seattle was a challenge, not only to learn, but also to shape my personality and get involved with different cultures," Sajwani says. "It taught me to really shape the way I speak and how to think English when speaking English.
"At the same time, I learnt to deal with all the cultural sensitivities, especially when talking about sensitive topics. So that itself really helped me in shaping my thoughts, the way I speak, and my personality. This was as important to me as learning, studying and coming back with a degree."
And the rain? "When it rains now, my kids become very excited," he laughs. "But I tell them I had enough rain during my time in America to last me a lifetime!"
After graduating, Sajwani returned to the UAE to join Abu Dhabi Polymers Company, also known as Borouge, a start-up which specialised in the polyethylene business.
"I started my career with them and the beauty was that, when I joined, I was the first UAE national to join as a fresh graduate," he says. "I started on the help desk side, but it was only for around 20 people."
Borouge's nature as a start-up company allowed Sajwani to get to know different parts of IT, which led him into doing system administration, and then project management.
"I managed the implementation of the HR module on SAP, as well as a B2B project. As a manager, that's what I did, but as a team, I was involved in the overall set-up of the SAP system from scratch. I saw the progress of the plant being just an empty space to being completely ready in two to three years."
Come December 2002, Sajwani was managing all the IT applications within Borouge, which he continued to do for 16 months, but an opportunity to become a project manager at Emirates Bank Group proved too hard to resist.
"For me, banking was always a very aggressive environment that I wanted to jump into and start learning how businesses are run in that vertical, especially with the high levels of competition, complexity of technology and customer satisfaction that is needed," he says.
"Another reason for me leaving was the opportunity to move back to Sharjah and be close to my family, because the job was in Dubai. So I was very grateful for that."
During his first couple of years at the bank, Sajwani managed three main projects. The first of which was implementing the order management system for the securities of the shelf trading, and the launch of the first Internet trading platform for a bank in the UAE.
"That was the first project we did and there were a lot of challenges because it wasn't just a new experience for us, but for the market altogether," he says.
The second project was the implementation of a treasury back office system, and the third was the IPO for du.
"Emirates Bank was the lead manager for the du IPO, which was more an end-to-end project than just a technology implementation."
From project manager, Sajwani became a senior project manager, before moving to manage all the applications in Emirates Bank in August 2007.
That was when the challenges really began as the merger was announced between Emirates Bank and National Bank of Dubai (NBD), which Sajwani was to be a key architect of.
With each bank possessing its own CIO, the decision was made to split the integration between the two of them.
The CIO of NBD looked after the applications' portfolio for the integration, and the CIO of Emirates Bank looked after the infrastructure and operations. Sajwani was assigned to work on the applications side and was responsible for the PMO (project management office) of the integration.
However, in the middle of that journey between 2007 and 2009, the CIO of NBD decided to leave both the project and the job. This left Sajwani to take over as vice president of all the applications, and to deliver the high-profile integration project with the CIO of Emirates Bank.
The pressure was high, driven by high expectation on delivery time from the Dubai Government and His Highness, but the integration went live successfully in November 2009.
Six months down the line of Emirates NBD behaving as one bank, the CIO of NBD left, and Sajwani was appointed as overall CIO.
Whilst it had taken him one year more than his 10-year projection, Sajwani was very satisfied with his achievement.
"I gave myself 10 years from graduating university – it took me 11 years. But I was a group CIO, and not only for Emirates NBD, but also for the subsidiaries, including Emirates Islamic Bank, Tanfeeth, and Network International (NI), which we provide infrastructure services and hosting for.
"So it was a big challenge and I am still very proud of achieving that at that age. I have learnt from everyone around me and got a lot of support from my management and the people I worked with. It was a very exciting time."
Three years into the job that many would tout for someone far beyond his years, the begging question now is what the next 10-year challenge is?
"I'm not sure if I have the answer!" Sajwani laughs. "It's almost three years since I took over, so I am still trying to do my job in the best way, before thinking about the next step.
"There is a mixture of things I have in mind now, but one of them is actually to move into something more like a technology company providing services on a large scale. Now we behave like a department within a bank, but we are supporting different subsidiaries, so we are trying to build core values inside our department on how we should manage the different clients we serve with a proper balance.
"The fact that we are all on the payroll of Emirates NBD does not mean we don't give priority to Emirates Islamic Bank, NI or Tanfeeth. We have to deal with them and the best way we have managed to implement in the past year is by saying that any requirement that comes has to come with a business case. Whatever provides the highest value of return to the group, we go and implement. This is a very transparent approach we have given to the organisation."