Technology giant Huawei recently hosted its Middle East Channel Partner Summit at Atlantis, The Palm Dubai, bringing together an esteemed selection of channel partners and industry players to hear about how the company is redefining its regional Enterprise Business group channel strategy.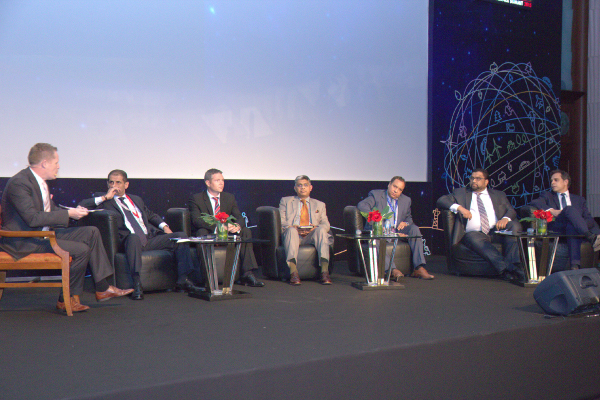 It's fair to say Huawei is now widely acknowledged as a force to be reckoned with in the tech industry. The company has registered some hugely impressive figures in recent years, with 2014's revenue hitting USD 46.5 billion, a 20 percent increase on 2013's total of USD 39 billion. It now has customers in over 170 countries, and serves 285 of the Fortune 500 companies, comprising three Business groups – Carrier Network, Consumer and Enterprise – the Partner Summit homing in on the latter's channel strategy changes within the region.
Kicking off proceedings was Ali Shi, President, Huawei MENA, who gave an overview of the company's role as a contemporary driver of monumental ICT changes. "We will grab the moon," he said. "If you travel from the year 1500 to 1900, the world was unrecognisable in terms of technology, and the same applies from 1900 to today. In the world of cross-functional technology – the Internet of Things and Big Data for instance – ICT will be a true enabler for all."
Terry He, President of the company's Middle East Enterprise Group followed up, driving home a similar ethos. "We'll focus on a few key sectors in 2015," he said. "Government, energy, transport, finance and education are our main targets. Huawei spends 10 per cent of its revenue in R&D investment into the likes of software-defined networking, 5G, IoT, Big Data and cloud computing. Our Enterprise Business Group has seen 27 percent growth over the last year, so we're at the fore of driving ICT from being a support system to a business enabler and production system."
Recently unveiled as the company's Channel Vice President for the Middle East Enterprise Business Group, Hany Hussein next took to the stage to deliver the news that the 400 attendees came for – Huawei's new Middle East 'Transforming Together' channel strategy.
"Our new Enterprise channel initiative has four main aspects," Hussein said. "The first step is engagement. This means increasing the size of our channel presence in the region; hiring an array of channel managers, channel marketing managers and incentive teams. Second is enablement, which begins with sales and continues to post-sales and implementation, meaning our partners thoroughly understand and buy into what they are selling.
"Next is enlargement, meaning an increased investment in events, workshops and roundtables to increase our presence. Last but not least we need to incentivise our partners in the best way possible, and find ways for them to maximise their profitability."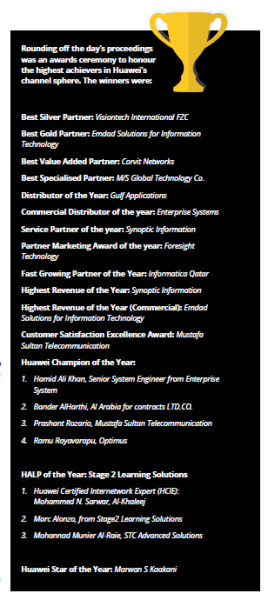 Eric Dai, Head, Enterprise Service, Middle East, next took to the stage, and discussed the importance of maintaining customer satisfaction in the long term, and the company's Certified Service Partner Programme. "In 2018, services will occupy 45 per cent of the ICT market," he said. "High quality service is paramount in satisfying customers, and our Partner Programme is an example of how that service can be delivered."
Huawei also welcomed Alaeddin Al-Badawna, Chief Information Officer of oil and gas firm ADMA-OPCO, who sung the company's praises in terms of its ability to build strong relationships with end users. "Some sales teams inadvertently destroy the reputation of their own brand," he said. "Building direct relationships with technology owners is so important for customers, and Huawei is committed to this business synoptic."
IDC's Director of Telecoms and Media for the Middle East, Africa and Turkey, Paul Black, weighed in on the need to drive "third platform" technologies in accelerating business growth. "Tailor-made business solutions are an absolute must," he said. "Social, mobility, analytics and cloud dictate that innovation is now what is important, technology is no longer just about bits and bytes."
A key incentive was also announced that is sure to please Huawei's football-loving partners. 'Football Fever' will see the region's top eight performing sales partners win a trip to watch one of Europe's elite football clubs in action – including A.C. Milan, Paris Saint Germain and Borussia Dortmund – who all employ Huawei solutions in their stadiums.
Rounding off the day's proceedings was a panel discussion on Huawei's role in shaping the cities of the future. Safder Nazir, Regional Vice President, Smart Cities, said, "People of a certain generation are used to going down to the post office or physically being somewhere in order to get certain tasks done. However, people now expect services to be delivered differently. Now we don't need to go down to a central downtown office to pay a traffic fine; we can do it from a smart device. We're positioned to ensure that these processes run smoothly."