The Emirates Foundation, the national organisation set up by the Abu Dhabi Government to facilitate public-private funded initiatives for the empowerment of youth across the UAE, announced the renewal of their partnership with BP Exploration and Operating Company, designed to support youth development programmes throughout the UAE.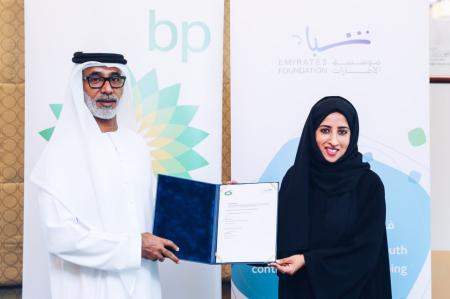 The agreement was signed at Emirates Foundation by Maytha Al Habsi, CEO of Emirates Foundation, and Salem bin Ashoor, General Manager and Chief Representative for BP.
BP has been supporting Emirates Foundation since its establishment in 2005 and under this new agreement BP will continue its support for the Emirates Foundation's overall programme portfolio to the end of August 2019, particularly in the areas of Innovation and Science, Technology, Engineering and Math (STEM).
These programmes, according to both firms, set out to improve the development and empowerment of youth across the UAE through inspiring, empowering and guiding them to ensure a sustainable future for the nation and enable individuals to give back to the community.
This partnership reflects the long-term vision of Emirates Foundation, established under the guidance of President is Sheikh Khalifa bin Zayed Al Nahyan, to build strong public and private partnerships that accelerate the nation's progress through nurturing youth development, civic engagement and corporate citizenship.
Welcoming the renewed partnership with BP, Maytha Al Habsi said, "Our partnership with BP over the last decade has significantly contributing to shaping the Science and Technology ecosystem in the UAE, impacting the lives of hundreds of youth across the nation through their journey to pursue STEM as a field of study and career."
"As a Foundation, we believe strongly in the power of collaboration with the private sector to create a culture of innovation among youth. Our partnership with BP demonstrates our joint commitment to this goal with initiatives that foster the growth of a STEM Ecosystem and nurture a growing talent pool of engineers and scientists, harnessing BP's leadership in technology and engineering,"
One of the most prominent joint Emirates Foundation- BP engagements has been around Emirates Foundation's Think Science platform, which promotes STEM education and careers to youth in the UAE, aligned with the nation's Vision 2021 towards a knowledge-based economy.
Al Habsi concluded Salem bin Ashoor, General Manager and Chief Representative for BP UAE, said, "BP is proud of its long journey and partnership with Emirates Foundation since its establishment in 2005. The Foundation programmes have continued to achieve its goals to help young people to contribute to the nation's long-term progress and sustainability by empowering, inspiring and supporting the youth of the UAE to make a difference while facilitating positive social changes. BP is pleased to engage with Think Science as one of Emirates Foundation's key programmes with our long history of supporting efforts to raise science capital across the globe through partnerships with schools, universities and science museums".