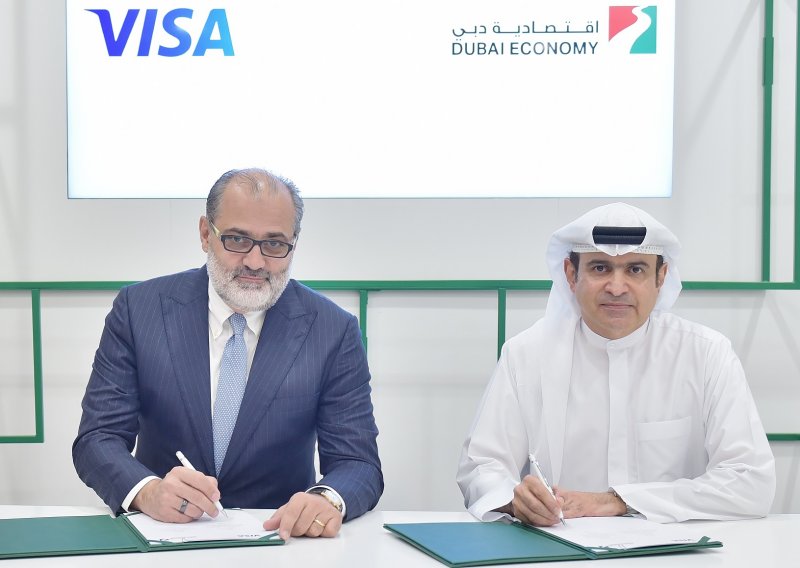 The Department of Economic Development (DED) in Dubai and Visa have signed a Memorandum of Understanding (MoU) to help grow the UAE's consumer eCommerce sector by encouraging more merchants to take their businesses online, and educating consumers on the benefits of digital payments and shopping and paying online.
The agreement was signed by Sami Al Qamzi, Director General of DED, and Marcello Baricordi, General Manager for MENA, Visa. The MoU follows continuous efforts by DED and Visa to promote retailing and safe online shopping habits.
Sami Al Qamzi, Director General of DED, "We are delighted to collaborate with Visa on driving digital payments in the UAE and accelerating the UAE's move to a cashless society in line with the directives of our leadership and the UAE Centennial Plan. Our goal is to position Dubai as the foremost in digital retailing as well as the happiest in the world."
According to Al Qamzi by joining hands with Visa they seek to enable consumers and businesses in Dubai take advantage of online shopping confidently while protecting the interests of individuals as well as emerging companies, especially fintech solutions providers.
The collaboration between DED and Visa will also work to create an annual index to monitor eCommerce growth in the UAE and in particular Dubai.
The organisations will enhance the online customer experience for UAE shoppers, and increase transparency of the eCommerce sector via knowledge and data sharing between the organisations.
"Visa continues to work collaboratively with payment ecosystem partners like DED and in line with the UAE's vision of being a smart, cashless, and knowledge-based society," said Baricordi. "We view eCommerce as a key strategic area where Visa can bring value to support UAE's drive to support SMEs, build consumer trust and deliver better customer experiences, and drive eGovernment initiatives."
Baricordi also noted that the partnership highlights a strong need to address and enhance the experiences of customers when online shopping. "Cardholder security is at the heart of Visa's business and, along with providing a safe and secure online shopping environment, we, along with the DED, are committed to improving the payments sphere and increasing accessibility while continuing to maintain UAE fraud rates at their current historic lows."
eCommerce is still only two percent of the retail spend in the UAE and both DED and Visa see an opportunity for more growth.
The rise in eCommerce is seen by both organisations as providing a platform for local entrepreneurial talent to spur innovation as well as for global players to participate in the UAE economy, with the recent acquisition of local companies by foreign companies such as Souq (acquired by Amazon) as positive examples of how this could propel more start-ups and venture capitalists to invest in the local eCommerce market.