Over the weekend, as part of the national sterilisation programme, Dubai has disinfected 129 of its sites and buildings and 23 public areas in the emirate.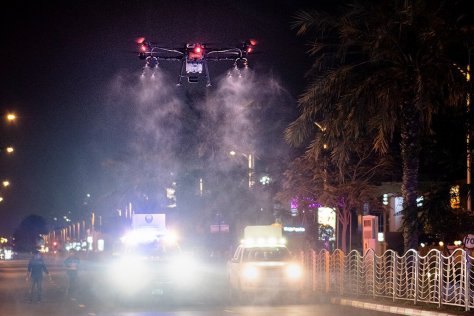 The move, which is being led by the Dubai Municipality began on the evening of 26th March and will continue until 5th April. With the aim to disinfect public facilities and areas, to stem the spread of the coronavirus (COVID-19) in the UAE, the emirate utilised advanced devices and technologies in accordance with international best practices.
The campaign is part of the "National Disinfection Program" launched by the Ministry of Health and Prevention in cooperation with the Ministry of Interior, in order to reinforce the intensive preventive efforts aimed at ensuring the health and safety of community members, and ensure the highest levels of protection and prevention against the coronavirus.
Eng. Dawood Al Hajri, director general, said, "Maintaining the safety of society is one of our main responsibilities, which is multiplied at such times, in implementation of the wise leadership directives to provide the highest levels of prevention at the present time when the entire world is facing the danger of an outbreak of the coronavirus. During this period our focus is to contribute to providing guarantees that ensure stability and safety for citizens, residents, and visitors. Human health and safety tops the list of our priorities at all times, especially in this exceptional stage."
As part of the programme, Dubai Municipality is using advanced tools such as drones in conducting the procedures, which enhance the speed and efficiency of the sterilisation operations.
Dubai Municipality has also deployed specialised teams as well as vehicles and equipment for spraying and disinfection, including spraying devices on vehicles that compress disinfection fluid into small particles, portable sprays that operate with hydraulic retail power, and spray and fumigation machines.
All sanitation products used have been approved by the Municipality, evaluated to verify their effectiveness and registered in the 'Montaji' smart app approved by the World Health Organisation.