Dubai Customs launched a new sophisticated smart inspection device that features 3D CT scanning, in a move to tighten control on cargo movements across all the ports and terminals in the emirate.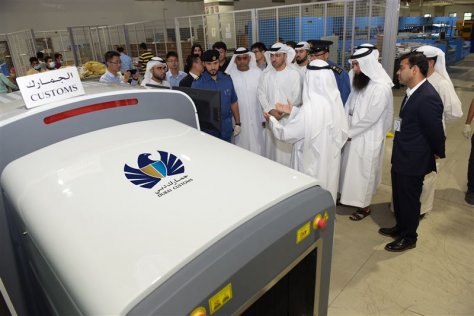 Abdullah Mohammed Al Khaja, Executive Director of Clients Management Division launched the new device at Um Al Rumoul post office in the presence of a number of heads of customs departments and centers in Dubai Customs.
"The advanced technology incorporated in this new device will be a turning point in the inspection field and will significantly support Dubai Customs inspection officers in their work," said Al Khaja.
"There are 944 inspection systems used in Dubai Customs: 6 container scanning systems, 24 small shipment scanning systems, 23 drug and explosives detectors, 4 big shipments scanning systems, and 700 radioactivity detectors, plus 187 communication devices."
He added that the move backs Dubai Custom's vision of becoming the leading customs administration in the world supporting legitimate trade. "It also supports our mission of protecting the society and sustaining economic development through compliance, facilitation and Innovation. For that we dedicated AED 79m between 2018 and 2021 to purchase and develop new systems".
Engineer Adel Al Suwaidi, Director of Technical Support Department pointed out the new smart inspection device is the first of its kind in the middle east and the second in the world.
Humaid Al Rashid, Director of Air Customs Centre Management at Dubai Customs said the new system will considerably enhance inspection performance and will enable inspection officers do their job more efficiently.
Dubai Customs inspection officers made 1,628 drug seizures in 2017 compared to 1,347 seizures in 2016.