Dubai Future Foundation (DFF) has announced the closing of the 5th cohort of Dubai Future Accelerators programme, which received applications from start-ups and global companies from 74 countries around the world.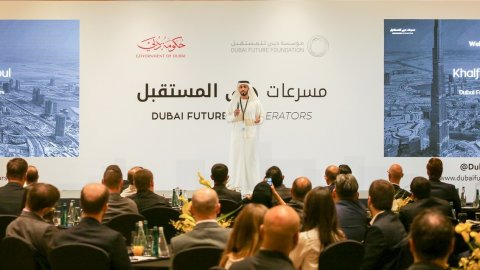 The programme received over 600 applicants in which they will undergo a rigorous evaluation and selection process. Ultimately, selected companies will have the opportunity to take part in Dubai Future Accelerator programme and tackle challenges launched by government entities and create innovative and smart solutions through the use of advanced technologies such as; Artificial Intelligence (AI), advanced technologies, Internet of Things (IoT), and Blockchain.
The Programme's 5th cohort is expected to start in mid-September with 12 government entities in participation: the Department of Economic Development, the General Directorate of Residency and Foreigners Affairs in Dubai, Smart Dubai, Dubai Municipality, Emirates Airlines, Dubai Police, Roads and Transport Authority (RTA), Knowledge and Human Development Authority (KHDA), Dubai Health Authority (DHA), Dubai Electricity and Water Authority (DEWA), Etisalat Digital, and Emirates Integrated Telecommunications Company (Du).
Saeed Al Falasi, Executive Director of Future Platforms at DFF, stressed that the Dubai Future Accelerators programme is an important platform that brings together government entities in Dubai, as well as start-ups and well established global companies to find innovative solutions for current and future challenges, and make use of the latest technological developments around the world.
"The Dubai Future Accelerators programme has achieved remarkable levels of success in finding effective solutions to challenges facing Dubai's government entities and its strategic sectors, in collaboration with start-ups and innovative global companies. This supports the process of building the future, in Dubai and the UAE," added Al Falasi.