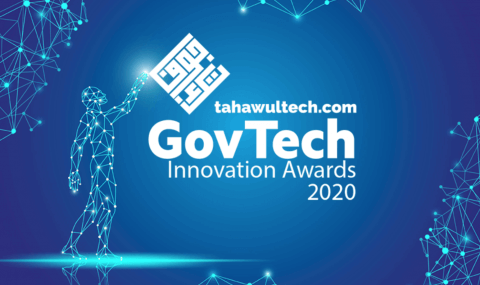 CPI Media Group and TahawulTech.com have announced the winners of the inaugural GovTech Innovation Awards during a virtual ceremony on 2nd November 2020.
The GovTech Innovation Awards aims illustrate how government entities in the UAE have demonstrated real digital leadership as the IT ecosystem continues to undergo fundamental changes due to the emergence of disruptive new technologies.
While the emergence of these transformative technologies has undoubtedly presented enterprises with a vast array of incredible new opportunities – the disruption across many industries has also created many new challenges for businesses all over the region.
Businesses that resist digital transformation run the very real risk of becoming obsolete. However, this is where government organisations have led the way in this regard and have helped enterprises deal with the challenges of digital transformation.
They have also championed, pioneered and integrated technologies such as Artificial Intelligence, Machine Learning and Big Data & Analytics into their decision-making to create better services, solutions and experiences to achieve their primary goal which is to enhance the lives of every citizen in the UAE.
The virtual event also featured an exclusive panel discussion with top executives from CNS Middle East and Fortinet.
Moderated by CNME Editor Mark Forker, the discussions featured insights from Asef Sleiman, Sales Director, CNS and Fadi Yehia, Sr. Manager Major Account, Fortinet. It examined some of the current trends and challenges within the IT ecosystem in the Middle East.
Here's the full list of winners:
| | |
| --- | --- |
| Abu Dhabi IT Department of the Year | Municipality of Abu Dhabi City |
| AI Implementation of the Year | Etisalat |
| Citizen Empowerment Initiative of the Year | Municipality of Abu Dhabi City |
| Cybersecurity Solution of the Year | Ras Alkhaimah Electronic Government Authority |
| Digital Solutions Provider of the Year | Dubai Silicon Oasis Authority |
| Digital Transformation Project of the Year | Department of Health |
| Government IT Leader of the Year | Yousuf Marhoon, Dubai Air Navigation Services |
| Government Pioneer of the Year | Sameer Khoory, Ministry of Health & Prevention |
| Innovative Initiative of the Year | Ministry of Infrastructure Development |
| IoT Implementation of the Year | Dubai Taxi Corporation |
| Mobile App of the Year | The Mohammed Bin Rashid Housing Establishment (MRHE) |
| Sharjah IT Department of the Year | Sharjah Customs |
| Smart City Initiative of the Year | DEWA |
| Woman in Government of the Year | Mubaraka Ibrahim, Ministry of Health and Prevention |
| Innovative Leader of the Year | Khaled Al Melhi, Injazat – A Mubadala Company |
| Visionary IT leader of the Year | Engineer. Marwan bin Haidar, DEWA |
| Smart Cities Leader of the Year | Ali Al Jaeedi, Integrated Transport Centre Abu Dhabi |
You can watch the full event here: