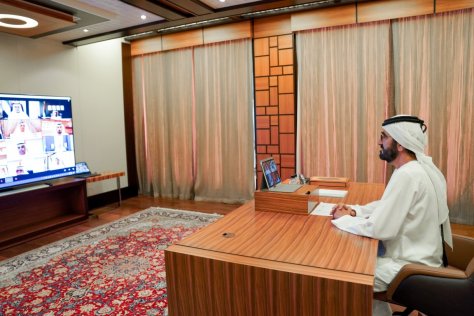 His Highness Sheikh Mohammed bin Rashid Al Maktoum, vice president and prime minister of UAE and Ruler of Dubai has recently chaired a cabinet meeting online.
The move to hold the meeting via video conference was part of the government's preventative measures to curb the spread of the Covid-19 coronavirus, according to state news agency WAM.
The UAE cabinet meeting centred on the approval of the $4.3 billion (AED16 billion) economic stimulus package as part of the Federal Government's additional measures to support the national economy, ensure businesses continuity, and mitigate the coronavirus impact.
During the meeting, Sheikh Mohammed also noted that the UAE government is ready to deal with all future circumstances, adding that the country will be part of the global efforts to contain COVID-19 pandemic.
"Our message for everyone is that we are completely ready to deal with all circumstances," added Sheikh Mohammed. "Over the past 10 years, we have invested in smart learning, electronic and smart services to enhance our readiness for emergencies and disasters. Today we are reaping the fruits of our strenuous efforts as evidenced by the continuation of our educational process and basic government services. We are being proactive in dealing with global health conditions."
Governments across the world are proactively taking rigorous steps to curb the spread of the novel coronavirus. In the UAE, government leaders have mandated the temporary closure of many public places such as theme parks, indoor amusement centres, cinemas and gyms. The country's Ministry of Education as part of its smart-learning programme, has began its distance learning scheme on 22nd March, in a bid to ensure the continuity of learning processes during times of natural crises and disasters.