As the COVID-19 outbreak escalates and more businesses are asking their employees to work from home (WFH), people are struggling to adapt to this "new" working style.
ICT leaders, the likes of Microsoft, Avaya and Google, are offering some of their remote working and team solutions for free for the time being, but switching to videoconferencing, webinars and remote learning can be hard and disheartening for many workers who are used to going into a crowded office.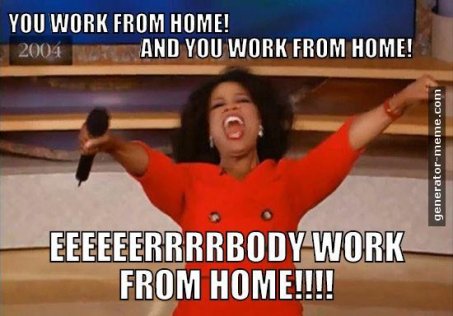 To help you overcome concerns about working from home, CPI Media Group is hosting a virtual discussion, on March 26th, to address the challenges and benefits of working from home – until then, Tahawultech.com has rounded up ten of the funniest WFH tweets to lift your spirits in these challenging times.
1. Front-facing camera problems
me and my coworkers logging into all of our meetings remotely for the next couple of weeks pic.twitter.com/fpOYiHJLcl

— isha (@ikasliwal) March 9, 2020
2. Was that meeting REALLY necessary?
I guess we're about to find out which meetings could've been emails after all…

— Sara Wallace Goodman (@ThatSaraGoodman) March 8, 2020
3. You could even end up missing that one workmate who steals your food from the office fridge
STAGES OF WORKING FROM HOME
– Yay I get to work from home
– It would be nice to talk to people
– I hope that pigeon sits in the window today

— Mark Agee (@MarkAgee) July 14, 2015
4. Taking care of your mental health with a good routing
When you're working from home, for focus and mental health it's really important to NOT just wear your pajamas! Wear yesterday's clothes you grabbed off the floor

— Jess Zimmerman (@j_zimms) March 13, 2020
5. Kids anyone?
Day three of wfh is going well. My 6-year-old, wearing a giant inflatable penguin costume, just joined a Zoom conference call with all the other Conde Nast EICs.

— Nicholas Thompson (@nxthompson) March 12, 2020
6. Conference bingo should be a thing
Conference call bingo just in time for your #WFH week: pic.twitter.com/xMTXWX1lDH

— WhitneyPaulsen (@WhitneyTolzin) March 16, 2020
7. You're now a plant
PSA for office folks suddenly working from home #remoteworking pic.twitter.com/3NBXABzyHf

— Ted Goas (@TedGoas) March 10, 2020
8. Solving that kids problem
Found a good way to get work done at home today #workingfromhome pic.twitter.com/1mXNyrsbNH

— RoryHearne4Seanad (@RoryHearne) March 18, 2020
9. Productivity is key
Me working from home the last week #quarantineandchill pic.twitter.com/5UXeUgh0Ie

— Rose Martinelli (@okayrosem) March 13, 2020
10. And yes, you really need to get some work done whilst at home
When you realize "working from home" means you still have to actually work. pic.twitter.com/PCy6RW5BK5

— E! News (@enews) March 13, 2020
Still concerned about remote working? Register now for Tahaultech's first DigiTalk, titled the "UAE's readiness for remote working", to discover the challenges and opportunities this working style raises for organisations. To register your interest please send an email to yvonne.zeljkovic@cpimediagroup.com