The Telecommunications Regulatory Authority (TRA) has held a workshop on "Developments and best practices in the UN E-Government Survey 2018", in the presence of Hamad Obaid Al Mansoori, TRA Director General, and Abdulla Nasser Lootah, Director General of Federal Competitiveness and Statistics Authority (FCSA), at the InterContinental Dubai – Festival City.
The Forum focused on e-participation while the second discussed open and Big Data and their impact in enhancing digital government orientation.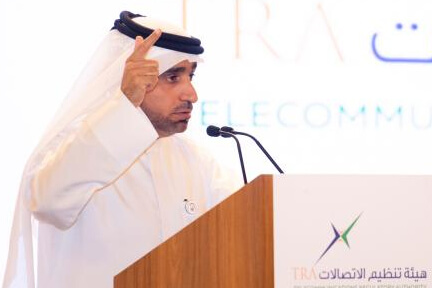 It highlighted the importance of e-participation and its role in advancing service provision and design by engaging the public, in addition to informing the audience about open data significance to reach number one by 2020.
The event provided an overview on the UN E-Government Survey 2018 Report, attended by representatives of government entities in the field of data and participation as well as corporate communications directors.  The workshop had a technical and detailed discussion on the development of government entities' work in these two important fields. The audience listened to the views of the participating experts who summed up many outstanding practical experiences, success stories and implemented global standards.
In his opening speech, Al Mansoori congratulated the audience on the achieved results in the e-participation indicators. "We have advanced 15 ranks at once from 32 to 17, which contributed to our progress in the Online Services Index to reach the 6th rank globally. The mystery behind this great progress is the team spirit, which characterised our work together through the journey of smart transformation, since the announcement of Sheikh Mohammed bin Rashid Al Maktoum, Vice President and Prime Minister of the UAE and Ruler of Dubai, of the mGovernment initiative in the federal government in 2013."
Al Mansoori confirmed his confidence that continuous communication at all levels of government entities, including exchange of successful practices and experiences, reviewing global practices, courage and innovation in adopting new trends in the field of participation, will lead to achieving the aimed goals, which would reflect on the results of the UN e-Government survey 2020 and beyond. or