Global medical-technology provider Hill-Rom has gathered healthcare providers and caregivers in Dubai to witness the launch of the Hill-Rom Centrella Smart+ bed in the UAE.
According to the firm, the Centrella Smart+ bed delivers optimised patient safety, enhanced patient satisfaction and advanced caregiver-focused technology.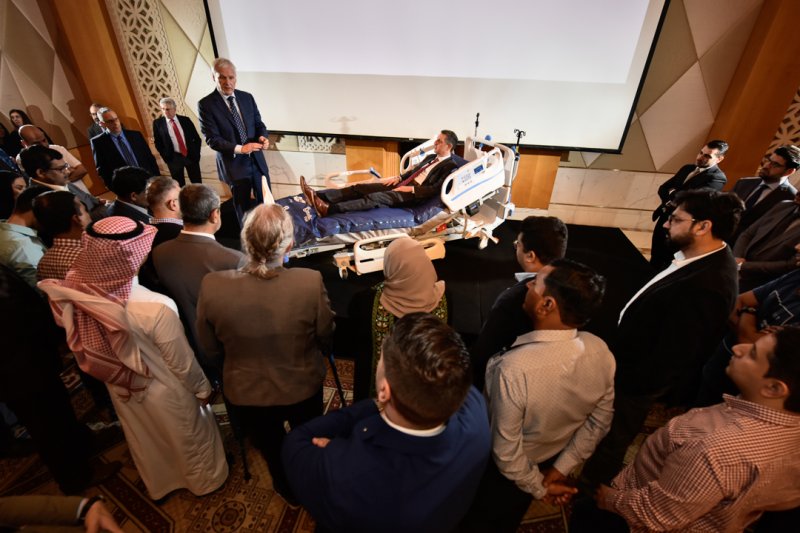 The Centrella Smart+ bed also integrates Hill-Rom's advanced NaviCare Patient Safety System, which brings together technology, services, clinical programmes and clinical expertise to help prevent and reduce the risk of falls. NaviCare works autonomously to make timely and relevant adjustments to safety settings on the bed, and alerts caregivers to a bed that is in an unsafe state.
In December 2018 Hill-Rom announced the integration of EarlySense's contact-free heart-rate and respiratory-rate sensing and analytics technology into Centrella. The bed can now monitor heart and respiratory rates more than 100 times per minute without any contact with the patient. EarlySense technology alerts clinicians to potential deterioration events much earlier than traditional monitoring methods, enabling health teams to intervene more effectively.
Furthermore, Hill-Rom has announced a global collaboration with Microsoft on a solution that will enable the analysis and delivery of advanced, actionable point-of-care data to caregivers at the point of care. Through Microsoft's Azure cloud platform and Internet of Things offerings, Hill-Rom will deliver applications capable of dynamically analysing real-time sensor data from medical devices, including the Centrella Smart+ bed.
"The digital age presents an opportunity to take a massive leap forward in our enhancement of patient outcomes," said Brian Lawrence, Chief Technology Officer and Senior Vice President, Hill-Rom. "Digitisation is a driver for many industries, but in healthcare, technology can supercharge our ability to deliver on our core promise – the enhancement of patient outcomes. As we introduce the Centrella Smart+ bed to the UAE, and look forward to our participation in Arab Health, we cannot help but admire the courage we see across the region, as those in the healthcare sector turn decisively to technology in their efforts to build a safer, more comfortable care experience for their patients."
A 2018 GCC Healthcare Industry Report by Alpen Capital projected regional healthcare spending will reach $104.6 billion by 2022, compared with $76.1 billion in 2017, with inpatient services continuing to represent the lion's share.
Hisham Hout, President, Middle East Africa, Turkey and Indian Sub-Continent, Hill-Rom, said, "The growing regional healthcare sector will welcome the Centrella Smart+ bed – the culmination of inputs from the finest minds in the medical and technology segments. Healthcare providers in the GCC have taken some bold roads to improve patient care outcomes in recent years. The region has a strong track record of recognising and adopting innovative emergent technologies. Our role has always been to support frontline caregivers in their ongoing commitment to their patients. We look forward to continue introducing our innovations to this community and empowering them to work towards better care."
Hill-Rom is participating at Arab Health 2019. More than 80,000 healthcare professionals and upwards of 4,000 companies from 160 countries will attend the Dubai World Centre exhibition.