CNME and TahawulTech.com's fifith annual CIO 100 Awards ceremony took place on Tuesday, honouring the top 100 C-level IT leaders from across the region.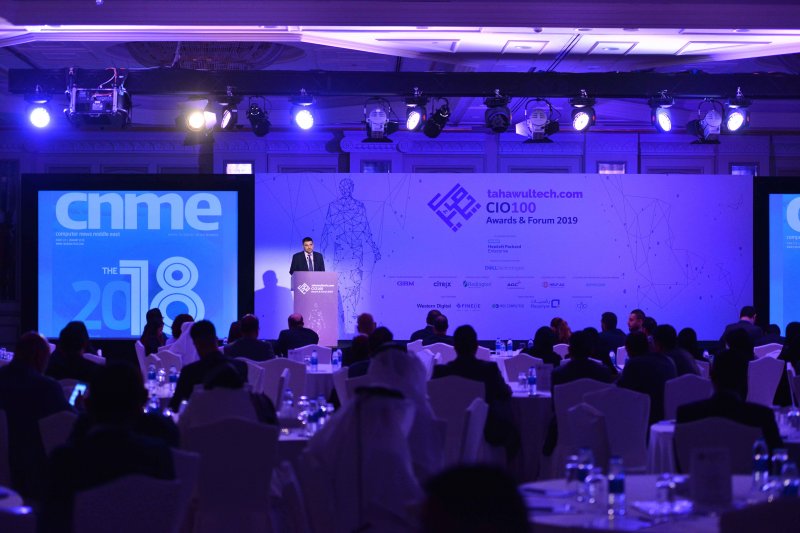 Held at the Habtoor Grand Hotel in Dubai, the event celebrated 100 organisations and their IT figureheads that have been using technology innovatively throughout to deliver business value.
The honourees were chosen for the prowess that they had demonstrated in delivering innovative IT initiative, pioneering a new technology, applying a familiar technology to a new purpose or setting the bar higher for their competitors.
James Dartnell, editor, CNME, said, "This year's CIO 100 winners are a shining example of what it means to be change agents. The CIO of 2019 has an extremely important and high-pressure task – transitioning their organisation into the digital age while being forced to do more with less. CNME's CIO 100 winners have proven themselves to be true digital disruptors, and constitute some of the brightest minds in the Middle East region."
The event also saw keynote presentations from industry leaders such as Adam Lalani, Group Head of IT, Tristar; Kinda Baydoun, Director of Channel & Alliances, HPE; Haidi Nossair, Marketing Director, Middle East, Turkey and Africa, Dell EMC; and Khwaja Saifuddin, Senior Sales Director, Middle East, Western Digital (WD).
Here's the full list of winners:
| | |
| --- | --- |
| Abbas Hussain | Ahli Bank Kuwait |
| Abdalla Al Ali | Dubai Multi Commodities Center (DMCC) |
| Abdul Aziz Ahmed Al Marzooqi | National Petroleum Construction Company |
| Abdullah Alshamsi | Dubai Aviation Engineering Projects |
| Adam Lalani | Tristar Transport LLC |
| Ahmed Abdulsamad Al Hammadi | Abu Dhabi Municipality  (ADM) |
| Ahmed Al Ahmad | Nakheel PJSC |
| Ahmed Alkindi | National Ambulance |
| Ajay Rathi | Meraas holding |
| Akshay Lamba | Deloitte & Touche (M.E.) |
| Alexander Raiff | Abu Dhabi Commercial Bank |
| Ali Abdul Qader Almenhali | Abu Dhabi Sports Council |
| Ali Ghunaim | Canadian Specialist Hospital |
| Ali Hussain | Public Authority For Applied Education and Training |
| Alia Al Hammadi | Emirates Nuclear Energy Corporation |
| Anshul Srivastav | Union Insurance |
| Arul Jose Vigin | Dispute Resolution Authority |
| Ashith Piriyattiath | AL Masah Capital Management |
| Bilal Hasan | DULSCO |
| Boris Rusafov | Majid Al Futtaim Properties |
| Bryan Lord | Cleveland Clinic |
| Choudhary Muhammed Zia Ur Rehman | NATIONAL MEDIA COUNCIL |
| Col. Nasir  Binafsan | Sharjah Police |
| Donna Lunn | Mediclinic |
| DR KHALED EL ODHAIBI | Medical Services Department – MOD |
| Dr. Hilmi Rifai | Majid Al Futtaim Holding |
| Dr. Nalluri Subba Rao | MDCBMS |
| Esam Khamees Alfalasi | Ministry OF Economy |
| Esmael Salman | Kuwait Fund for Arab Economic Development |
| Faisal Malallah | Equate Petrochemicals |
| Fatima Al Mansoori | Department of Urban Planning and Municipality(DPM) |
| FAYAZ AHAMED BADUBHAI | Al Yousuf LLC |
| Frank Watts | Al Tayer |
| Fuad Al Ansari | ADNOC Refining |
| George Akhras | AMSI |
| Guruswamy Periyasamy | Air Arabia |
| Hamed Areidat | Federal Authority for identity and citizenship |
| Hashim Saeed | AZIZI Developments |
| Hasnain Juzer | Saudi German Hospital Dubai |
| Hessa Obaid Al Suwaidi | Ministry of Infrastructure Development |
| Hisham Airan | Dubai Taxi Corporation |
| Ibrahim Al Jerwan | Etisalat |
| Jaicil Mohammed | Portingx Technology FZE |
| Jaleel B Rahiman | Prime Healthcare Group LLC |
| Joseph Fayad | TIME Hotels |
| Juma Al Ghaith | Dubai Customs |
| Justin S. Thiraviyam | Avivo Group |
| Khaled Al Hajeri | National Qualification Authority |
| Khalid Jalal | Gulf Aluminium Rolling Mill B.S.C. (c) |
| KUMAR  PRASOON | AL SAFEER GROUP |
| KV Kumar | Qatar Insurance Group |
| Madhukar Chaturvedi | AlShirawi Group of Companies |
| Madhusudhan Sarangi | Port of Fujairah |
| MADHUSUTHAN | BAHRI & MAZROEI GROUP |
| Mamoun T. Alhomssey | Abu Dhabi Islamic Bank |
| Manish Bindra | Galadari Brothers Co. L.L.C |
| Mansour Al Ketbi | Mubadala Investment Company |
| Mario Foster | Al Naboodah Group Enterprises |
| Martin Sebastian | National Takaful Company (Watania) P.J.S.C. |
| Martin Wallgren | Gulf Agency Company |
| Matar Salem Aldhaheri | Ruler's Representative Court Al Ain Region |
| Mohamad Al Ameri | Abu Dhabi Executive Council |
| Mohamed Sabah | Dubai Holding |
| Mohamed yousif AlHammadi | Dubai Culture |
| Mohammad Shahzad | RDK Group |
| Mohammed Ahmed  Baqer Alzaronei | Islamic Affairs & Charitable Activities Department |
| Mohammed Arif | Magrabi Eye & Eyar Hospital Daycare Surgery |
| Mohammed Azeemuddin | Al Rawabi Dairy Company LLc. |
| Mohammed Mudasar | ETA Facilities Management |
| Mohammed Sater | Bahrain Mumtalakat Holding Company |
| Mosabah Khalifa Al Humairi | Presidential Flight |
| Mubarik Hussain | Bloom Holding |
| Muna AbdulQader AlAli | Department of Finance – Dubai |
| Nitin Bhargava | Mashreq Bank |
| Prince Rajan | IKEA |
| Rami Alhaddad | National Aviation Services (NAS) |
| Rashed Al Hefeiti | Family Development Foundation |
| Richard Wingfield | Majid Al Futtaim Ventures |
| Ronald Stewart Dsa | OSN – Gulf DTH FZ LLC |
| Saleem Ahmed S | Sharjah Islamic Bank |
| Salman Altamimi | Emdadat |
| Sanjeev Mulay | First Abu Dhabi Bank |
| Sara Al Najjar | Abu Dhabi Ports |
| Sayed Rahman | Sharjah Electricity and Water Authority |
| Sebastian T. Samuel | AW Rostamani Group |
| Serjios Hage | HUBB INTERNATIONAL |
| Shadi Nabil Al-Muzayen | Al Dhafra Region Municipality |
| Shailesh Mani | FLEMINGO INTERNATIONAL LTD |
| Shanawaz.K .K | Enhance Group ( A W J Towell Group, Oman ) |
| Shanu Ammmunni | ISHRAQ DUBAI |
| Sharifa Al-Kandari | Kuwait Credit Bank |
| Sherif Fouad | Bank Boubyan |
| Shijin Prasad RS | CURE |
| Shumon A Zaman | Lamprell Energy Ltd |
| Sreedhar K Reddy | Aldar Properties PJSC |
| Suresh Kumar K | Red Sea Housing Services |
| Syed Mohammad Ali Naqvi | Al Hilal Bank |
| Thanos Papadimitriou | Ras Al khaimah Economic Zone – Government of Ras Al Khaimah |
| Vinay Sharma | Gulftainer |
| Ziauddin Sayed | Emirates Healthcare Group |