Hosted by CNME and TahawulTech.com, the fifth annual CIO 100 Awards and Forum kicked off at Habtoor Grand Hotel in Dubai this morning. Gathering the region's top IT leaders, the day's proceedings began with thought-provoking presentations from eminent speakers.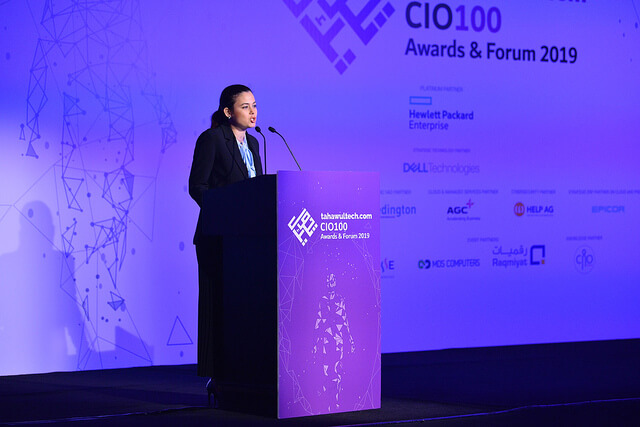 The keynote address by platinum sponsor HPE's director of channel and alliances Kinda Baydoun on 'HPE Solutions to unlock business values of artificial intelligence (AI)' resonated well with the audience. Baydoun explained how regional businesses can no longer ignore the reality of AI today. The technology is becoming less of a buzzword and increasingly being integrated into our daily lives.
She said, "Industry leaders such as Amazon, Facebook, Google and Microsoft are using deep learning to drive innovation and differentiation. Several other verticals such as healthcare and transportation are recognising the potential of deep learning and AI. Considering the transformative use-cases that we see today, the question is, are we on the brink of a second industrial revolution?"
She went on to explain how the first change was about moving from gathering and hunting to settling down to farms and ports, while the next change was developing the printing press and industrial revolution.
"The biggest and latest change of our lives is AI, bringing us to the brink of a second industrial revolution. It can reshape all sectors such as transportation, healthcare, science, finance and the military."
She painted a picture for the audience of how the world would be, if we used AI's complete potential.
"HPE is helping customers unlock the complete value of AI. We make AI work from the edge to cloud to core, which means we are working on AI solutions for IT, business and for the future.
"HPE's vision is the autonomous data centre, which will be self managing, self healing and self optimising."