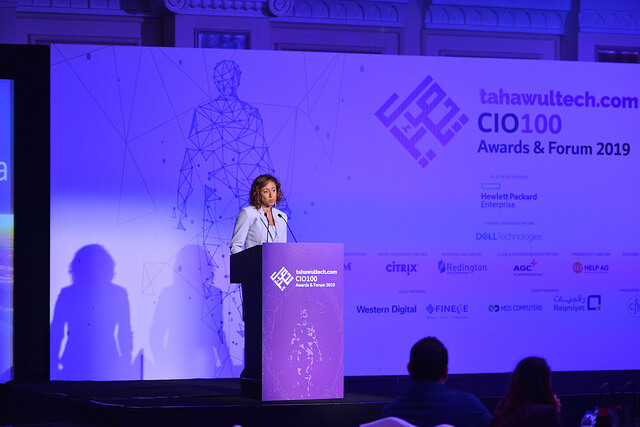 The fifth edition of CNME and TahawulTech.com's CIO 100 Awards and Forum, took place at Habtoor Grand Hotel in Dubai this morning. The event brought together the region's top IT leaders on a single platform to discuss, share and learn the latest market trends and use-cases around data.
A strategic partner for the event, Dell EMC's META marketing director Haidi Nossair's presentation was on 'Unleash the power of smart data'.
She said, "Today when we say 'technology can drive human progress' – it is no longer a marketing statement, but a fact. Over the next few years, data will grow, need for security will grow and opportunities too will increase.
"The vast velocity and volume of data will drive more needs for partnerships between humans and machines."
She believes in order to make these partnerships successful; we have to first unlock the value of data.
"We have to make the data smarter, faster and richer. For organisations to be successful, they have to embrace the innovation loop, which is sensing the data, making sense of the data and acting upon the data," she added.
Sensing the data includes capturing and curating it through Internet of Things concept then analysing it through AI and machine learning capabilities.
"Here we are driving analytics to tap into opportunities that have never been possible before. Customers need to have the basics of the modern data centre, which means they have to innovate on compute, store, manage and protect data and provide multicloud platform for AI."
According to Nossair, customers need to see how they can act upon data in an immersive and collaborative environment that allows them to view things in ways that were not conceivable before.
She said, "We are entering a new era where we have to embrace human and machine partnerships and master the innovation loop."