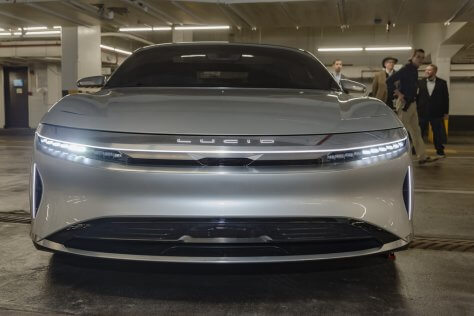 Saudi Arabia sovereign wealth fund is in talks to invest in Lucid Motors, an aspiring Tesla rival, according to a report by Reuters.
Tesla CEO Elon Musk was reportedly in talks with PIF and other investors to help him fund $72 billion deal to take his firm private.
Reuters said that the discussions held privately between Lucid Motors and PIF further highlight the latter's desire to diversify Saudi Arabia's oil-rich investment portfolio by investing in electric car manufacturers.
The report stated, "a deal with Lucid Motors would also be more in line with PIF's limited resources, given that, despite its $250 billion in assets, PIF has already made substantial commitments to other technology companies or investments, including a $45-billion agreement to invest in a giant technology fund led by Japan's SoftBank Group Corp."
People familiar with the matter revealed to Reuters that both parties had worked out a term sheet under which PIF could invest over $1 billion in Lucid Motors to obtain a majority stake.
They also added that PIF's initial investment in the electric car maker would be for $500 million, and subsequent cash injections would come in two stages that are "contingent on Lucid Motors hitting certain production milestones."
Reuters' sources cautioned that the dialogue between both the firms may also amount to a no deal. The report said, "the sources asked not to be identified because the matter is confidential. PIF and Lucid Motors did not immediately respond to requests for comment."
Lucid Motors was founded in 2007 as Atieva by Bernard Tse, a former Tesla vice president and board member, and Sam Weng, a former exec at Oracle Corp and Redback Networks. It is based in Newark, California. The company received backing from Chinese investors, including tech entrepreneur Jia Yueting and state-owned automaker BAIC. Other venture capital backers have included Venrock, Mitsui & Co and Tsing Capital.
Although not selling any cars yet, Lucid Motors had unveiled a prototype around two years ago, of its Lucid Air model. It was a $100,000 luxury sedan the firm had hoped to begin building in Arizona in late 2018. Reuters reported that it was not clear when this car will become available, though the company is accepting refundable deposits of $2,500 from consumers on its website.