The ASUS ExpertBook B9 is a solid companion for the business world-in fact, its features are so diverse and powerful, that it actually sets the benchmark for other business laptops.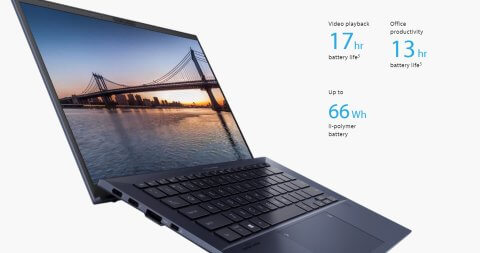 Its USP is its lightness-pick it up and it doesn't weigh on you like the other laptops around! This stunner is encased in a magnesium-lithium alloy chassis, so it weighs just about 1.01 kg and its superslim bezels enable a 14-inch display to fit into its 13-inch class chassis, making it extremely compact. Make no mistake-it is also sleek and very modern-one can't help but notice how precise and minimalistically elegant the product is.
Let's get straight to the performance: It is equipped with a 11th gen Intel® Core™ i7 processor with Iris Xe graphics and superfast intel Wi-Fi 6, so work is fast and effortless. It also supports the RAID technology for improved data reliability and faster operation.
Now comes the best part: its massive battery performance. In fact, the ExpertBook B9 provides all-day battery life on a single charge, aided by energy-efficient Panel Self Refresh technology. That's not all: it's fast-charge technology lets you recharge the battery to up to 60% capacity in as little as 39 minutes, so, no more excuses about work not getting done because of forgetting to charge the laptop. Jet-setting businessmen will find this product extremely convenient as they travel the world on long-haul flights.
If you're the kind that loves to work in peace and total silence, this is the product for you: the ExpertBook B9 features the ASUS AI noise-cancelling technology that filters out all the unwanted noises and focuses on human speech. The ClearVoice Mic feature in the MyASUS app can filter out ambient noise, and normalize all individual voices in Multi-presenter mode from different positions for optimum group conference-call quality. The ClearVoice Speaker feature filters out all ambient noise apart from human speech — so you'll hear what everyone else is saying.
The audio is excellent as well- can you expect anything less with its four omnidirectional far-field microphones, smart amplifier technology and Harman Kardon-certified speakers?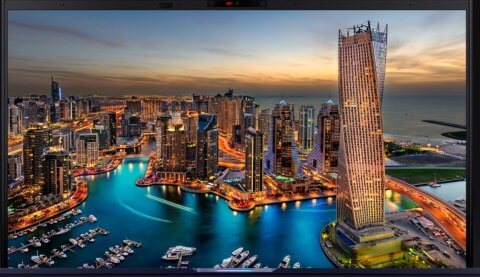 Then again, ASUS has always been at the forefront of innovation, so it is but natural to expect something unique out of a niche product such as the ExpertBook B9. And it doesn't disappoint: Its smart proximity sensor makes sure you don't have to wait impatiently while the minutes tick and the machine warms up for you to start work. The moment you sit down in front of it, the ASUS AdaptiveLock detects your presence and uses an integrated infrared camera to recognize your face and log you in — allowing you to get to work with zero fuss. Then, when you step away, the ExpertBook B9 automatically locks itself, protecting both your laptop and your data. The experience is truly reassuring and delightful-having a laptop protects you without you having to lift a finger, is a technological marvel.
Even its keyboard is a pleasure to navigate-soft, comfortable and with the right kind of LED light. The ASUS NumberPad10 is an LED-illuminated numeric keypad that's perfect for crunching numbers. Tap the NumberPad icon on the top right of the touchpad to turn it on, and tap the icon on the left to toggle between two brightness settings. Clever software lets you control the cursor, even when NumberPad is activated.
One of the main challenges of using a laptop is the glare that is reflected on the screen, no matter where you put it. But the ExpertBook B9 is refreshingly different. Its frameless 14-inch NanoEdge display and anti-glare panel reduces unwanted reflections, ensuring vibrant visuals even in bright environments. So, guess what? Less eyestrain, even after hours of viewing.
Of course, Alexa, the virtual assistant, is always there to help. So now you can get through the day, hands-free. Ask Alexa to schedule meetings, read your emails, plan a route or even request a ride. It's a smarter, more efficient way to get things done. A dedicated light bar illuminates when you speak to Alexa. Just ask, and Alexa will respond instantly.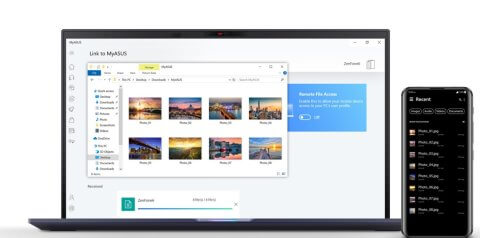 It's also easy to connect the ExpertBook B9 to the mobile phone. The MyASUS function is seamless and smooth. So, transfer files and website addresses, receive pop-up notifications, read and send messages, accept or make calls, and mirror screens — all on your ExpertBook B9.
These are only SOME of the features packed into this supercharged, sleek and intuitive "product of the future." So, if you're a businessman on the lookout for the perfect laptop to complement your modern-day lifestyle, look no further, the ASUS ExpertBook B9 has it all.