Bose Professional hosted its 'Installed Sound Expansion' event in Dubai on 30th October 2019.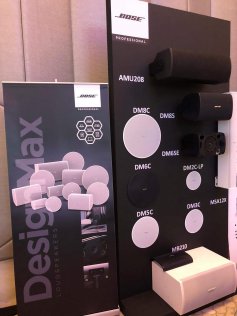 The event saw a successful turn out of 300 plus professionals from the industry. The product range was initially introduced at ISE & later InfoComm USA this year and now demonstrated live here at Dubai for the first time.
The event was attended by the Distributors, Consultants, System Integrators and End Users at Mandarin Oriental Hotel, Jumeriah Beach Road, Dubai.
With the Installed Sound Expansion, Bose Professional offers a wide range of installed sound product portfolio so the system designers and installers can deliver Bose Professional sound systems in more spaces than ever.
This means more options — more loudspeakers, amplifiers, processors and more controls to choose from. And more flexibility. Now consultants and integrators can combine Bose Professional products to create tailored sound systems that fit a greater variety of spaces, said the firm.
With an introduction of more than 50 new products for variety of spaces, the audience experienced live demonstrations of the new DesignMax Loudspeakers, MSA12X, Arena Match and Arena Match Utility Loudspeakers.
"We are excited to bring the newest DesignMax series to the region. Along with the new PowerSpace amps & controllers, we can offer solutions for variety of spaces and market segments than before," said Nittin Dargan, Regional Manager, Bose Professional.
The Installed Sound Expansion has one goal: providing consultants and integrators with the components they need to deliver complete systems – from simple, repeatable background music systems, to sound reinforcement, to more complex, networked, and distributed solutions.