People sending loved ones their Eidiya during this year's Eid Al Fitr can now do so virtually along with a beautiful cash gift cover using instant messaging app ToTok.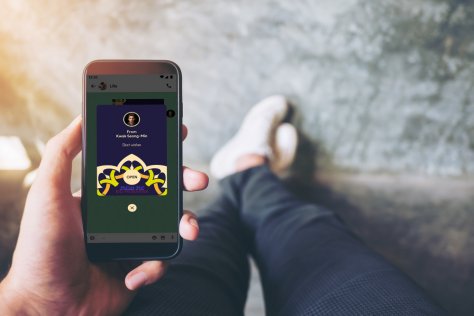 Social distancing restrictions may keep families apart this Eid Al Fitr, but Eidiya, a traditional gift of money for loved ones and especially children during Eid celebrations, can still be sent electronically through ToTok so that the people most important to you know you're thinking of them at this special time.  And you can even see their reactions to your gift, with a ToTok video call!
Transferring Eidiya money is made possible through a collaboration with PayBy, which operates mobile payment services in partnership with world-leading financial institution, FAB. PayBy on ToTok allows users to quickly and conveniently send instant money transfers to their family and friends through ToTok chat. Once a person receives the new Eidiya gift, the money remains in their ToTok wallet to use as they see fit.
The QR-code based payment system enables users to make contactless and cashless payments in-store with partner outlets such as LuLu Hypermarket, LuLu Express, and other select grocery stores. Additionally, the PayBy wallet on ToTok can be used to pay for deliveries on arrival, and to order goods and services online.
Giacomo Ziani, ToTok Co-founder, said, "We understand the things our users value most, and are committed to supporting important traditions, such as Eidiya. PayBy on ToTok offers our users a new and simple way to send their Eidiya gifts from the comfort of their own home – or wherever they may be. This is a completely contactless transfer system from end to end, making it safe and hygienic as we all continue to observe precautionary measures against COVID-19. On behalf of all of us at ToTok, I would like to wish our users a happy and healthy Eid Mubarak."
All financial transactions via PayBy on ToTok are well protected by leading and proven technologies, including an AI-based fraud management system to detect unauthorized activities, in strict accordance to PCI-DSS standards.
ToTok is available for download to Android users on ToTok's official website (https://totok.ai/download-android), through the Samsung, Huawei, Xiaomi, OPPO, Vivo app stores, or via popular third-party stores such as Apkpure, UpToDown, Aptoide, GetJar, Softonic.