Food manufacturers must learn to collect, analyse and utilise data across the entire manufacturing supply chain if they are to survive and thrive, experts said during food and technology conference in the UAE.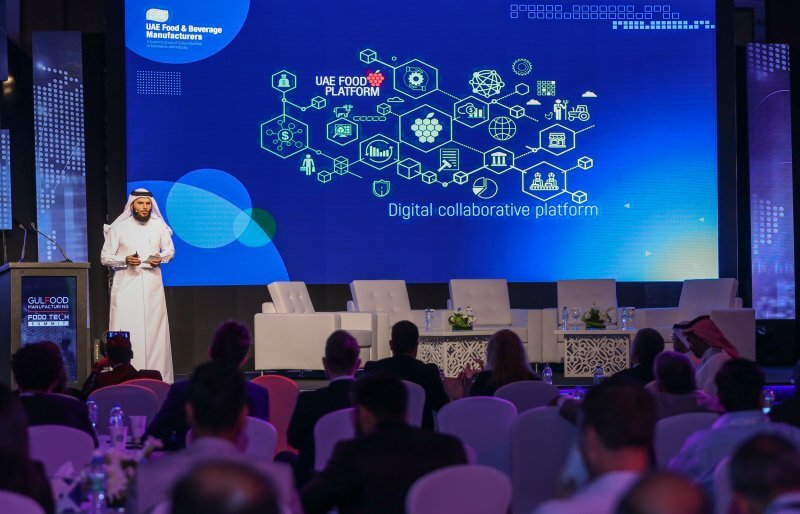 With some 50 billion food manufacturing assets across the globe expected to be connected by 2020, the industry is evolving rapidly – and a willingness to adapt is key to success.
Industry leaders, at the FoodTech Summit, which is taking place alongside Gulfood Manufacturing 2018, shared insights on the impact of the fourth industrial revolution and the adoption of the Industrial Internet of Things (IIoT) in the food manufacturing industry.
The Summit is bringing together pioneers from industry heavyweights including Nestle, Tetra Pak, Siemens and EcoLab, in a series of enlightening presentations, country overviews and panel discussions.
Abdul Majeed Al Otaibi, Head of Middle East Regulatory & Scientific Affairs at Nestle, one of two keynote speakers on day one, underlined how efficiency is vital if manufacturers and processing specialists are to successfully embrace technology. However, he insisted the inexorable rise of technology is an opportunity: "Every once in a while, new technology comes along to innovatively solve some big problems. But to take full advantage of new technology, there must be basic efficiencies already in place."
Saleh Abdullah Lootah, Chairman of F&B Manufacturing Group, the second keynote speaker, took the opportunity to explain his group's role, aims and approach to embracing the new technology paradigm.
"Collaboration is key if we are to survive," he stressed. "The challenges affect every one of us, and we must adapt to survive. Companies will struggle if they do not adapt. Together, we need to share data, to predict the future, to anticipate consumer needs. Today, everything is public, so we should develop ways to share data – information is everything. We can all learn and benefit, we must work together, rather than against each other, to achieve the next level of business.
"Here in Dubai we are blessed with a forward-looking government. Dubai leads by example – it is a data-driven economy, and we are moving toward the 'Smart Dubai' initiative. We must accept change, or we will be forgotten."
Lootah added, "In this data-driven economy, it is important to understand how we can transform data to information, then to knowledge finally to success. Every company must invest in data and data scientists or analysts to succeed. If you do not have a data scientist in your company, get one!"
Data gathering and analysis is a top priority for Tetra Pak, the world's leading food processing and packaging solutions company. Johan Nilsson, VP of Industry 4.0 Solution and Digital, shared Tetra Pak's vision for the factory of the future. These facilities will be highly connected, automated, lean and flexible.
Nilsson described how Tetra Pak, eager to take advantage of cutting-edge technologies, is partnering with some of the world's biggest IT companies. He added: "The F&B sector is currently not the most effective in asset utilisation. We are learning new ways to make better use of production. How to integrate technology can be very tricky, and very expensive. Partnerships mean costs are reduced, while we need to focus, as an industry, on three areas of improvement – safety and quality; flexibility, and productivity."
"Connectivity and data analysis mean increased productivity through prediction of failures and demand," he said. "We can increase food safety and quality by examining historic data analysis. Robotics allow for greater flexibility in production and fulfilment, while real-time data brings faster resolution of issues. It's about connection – of equipment, people and systems. Over and above this, cybersecurity is crucial. There is no fourth industrial revolution without cybersecurity."
Athar Siddiqi, Executive VP, Digital Factory, Siemens, took to the stage with a strong message, "Digitisation changes everything. The whole manufacturing sector and the business cycle – and no one is immune to it. The quicker we embrace it, the better."
He revealed a $50 million investment in digital practice in the region by Siemens in the next few years, underlining his belief that "data is nothing if not utilised properly."