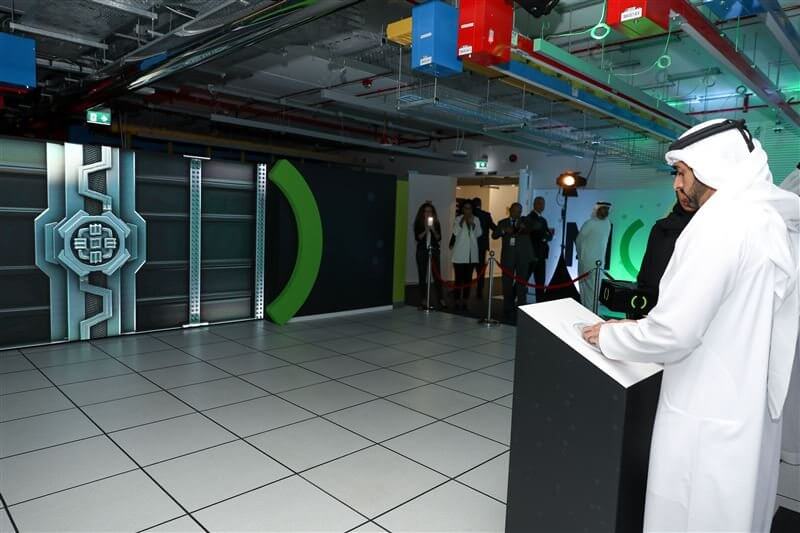 Dubai Electricity and Water Authority's head of innovation believes that the department's newly launched data centre is the most secure on the planet, and that the breadth of services offered by the facility means it will be uniquely positioned to assist customers across the world with their digital transformation efforts.
Moro currently offers a selection of data centre services, including cloud, colocation and managed services, and is the "first" LEED Platinum facility – a US Green Building Council certification for energy and resource-efficient buildings – in the GCC region.
Now fully operational, Moro already offers its services to "over 22" international and local companies, its technology platform comprising a range of blue-chip partners, including Microsoft, Dell EMC, Cisco, SAP, General Electric, VMware, Virtustream, EY and Cisco.
Marwan Bin Haidar, DEWA's executive vice president of innovation and the future and vice chairman of DEWA's subsidiary, says the facility is aiming to have a global impact on the technology industry. "Moro is beyond a data centre, it's a data hub," he says. "We are talking about creating a digital source for the whole region and the whole world.
"We have enough resources and technology to make sure that this facility is bulletproof, and we are sure that we have the most secure data hub in the whole world. We have the right partners and several levels of security. We haven't gone for number two technology partners, only for number one. We've given the partners a hard time because we only want top tier companies here. We've designed Moro to be a top tier data centre and have obtained the right certificates for it."
Bin Haidar believes that the facility is set to be a crucial asset for the UAE's government in powering a range of digital services. "Moro will be the backbone of all the government's digital initiatives," he says. "The whole digital portfolio can be delivered from Moro. Moro will enable the right infrastructure from hosting, to AI, Blockchain, IoT and all digital services. Everyone needs storage and compute power, which Moro provides. It's a key part of the Dubai Government's 10X initiative, which is about wanting Dubai to be 10 years ahead of others. We need to be digitally enabled to do that. We can leverage our experience from DEWA along with our big partners to make sure this is a success."  
The facility will also include office space, and Bin Haider believes this is an important bonus for companies looking to set up their IT shop with Moro. "It's a full ecosystem," he says. "The staff that man the facility will be a mixture of people from outside [the GCC], some from DEWA and some from our partners, so we will have the right staff for the right purpose. Beyond that it's about how we deliver a digital hub that can transform any entity or organisation to become digital."
DEWA is striking while the iron is hot, Bin Haidar says, with the organisation already looking to launch other data centre sites under the Moro brand. He believes the project will be a success due to the ways DEWA will target customers from the global market, and not just the GCC. "In digital there are no geographical boundaries," he says. "Customers want hosting and all digital services. We have the right combination to give them everything they need in one place. With digital, you don't need more staff. You need brains, but the rest is done autonomously.
"We've already started adding more sites, and they will be announced soon. One will be outside Dubai," he says, refusing to comment on specifics of the location. "We have existing clients in and outside of Dubai. They're from all over the world. We are looking at onboarding customers from all sectors, including banking, startups – you name it. We have a big plan to reach more customers. With Moro, we can transform more and empower organisations beyond the GCC."
Moro CEO Mohammed Sabunchi echoes Bin Haidar's comments, and says the organisation is looking to capitalise on Dubai's status as an emerging business hub for the Middle East and North Africa region, and aims to win over customers who are looking to set up shop in the region. "We're certainly looking to capture companies who are planning to open regional centres or back offices here," he says. "An American organisation who wants to set up in Hong Kong, Dubai or London is a prime example. They have to do the necessary due diligence and consider the necessary proximity, latency, pricing and quality of service when setting up their ICT infrastructure in a new territory. This is where we compete. A company like General Electric or ABB may want to open a shop because of the growth happening in the UAE. They want to open a hub in the region, and their choice of data centre becomes a question of which country, which city and which data hub or data centre."
Sabunchi believes Moro's value proposition lies in the breadth of technology services it can offer to prospective clients. "A lot of the UAE's 15 other data centres only offer hosting, where you have bring your own hardware," he says. "Today, we offer more than that. We do digital services and operations, hosting, backup, implementation and security. We give a complete offering and don't just do one layer, we do five. Within those five layers are about 100 types of services."
Sheikh Mohammed bin Rashid Al Maktoum set a target for government departments to deliver 80% of their services through digital platforms by 2018, and Bin Haidar says DEWA takes great pride in having exceeded these expectations. "We achieved that target in August 2017, and today, 92% of our customer services are done online," he says.