MDSap, a gold partner of SAP and expert in SAP's Platform and Technology (P&T) solutions, has announced the launch of a unique 'Moving Experience.'
'Moving Experience' is a roadshow that presents how digitisation can sharpen business efficiency and productivity.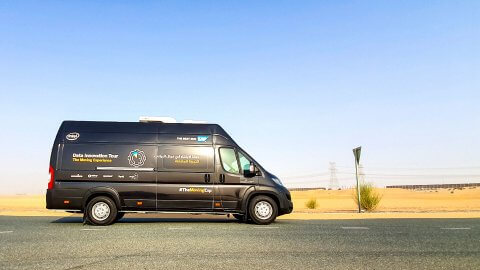 With MDSap as the Digital sponsor of the initiative, SAP will lead the initiative, which aims at promoting better story-telling to clearly communicate how SAP Platform and Technology solutions can transform businesses.
Travelling across the UAE and Oman to the premises of the customers until September, the 'Moving Experience' will provide a credible and bespoke onboarding experience for customers on how SAP technologies can transform their business through compelling demos.
Tony Achkar, group managing director and EVP, MDSap said, "The Moving Experience is a creative knowledge-sharing initiative that aims to provide customers with a real-world experience of how SAP technology can help them unlock their true potential. We believe that advances in technology must not be confined to board room meetings. We must take the message to the customers and ensure that we engage them with a narrative that demystifies technology and ensures they can understand better, learn more and make informed decisions. The initiative is in line with our commitment to the 'smart transformation' plans of the regional governments. We aim to take the 'Moving Experience' to new geographies and foster a culture of stronger engagement with our customers."
Designed to meet the business requirements of customers, the 'Moving Experience' is housed in a sleek Peugeot Boxer, custom-fitted with comfortable seating and high-tech screens to display P&T demos on topics like SAP Digital Boardroom, SAP Hana, SAP analytics cloud and SAP profitability and performance management.
MDSap also offers advanced ICT services and consultancy, system integration, software and hardware solutions, distribution, data centres, IT infrastructure and power solutions led by its partnership with Midis Group, which includes 150 companies across Europe and MENA.
The 'Moving Experience' vehicle will station at customer sites to give time for the team to communicate SAP Platform and Technology Solutions and all the associated benefits to customers. The vehicle will have a cooler and a fully stocked refreshment area to keep customers comfortable for the duration of their session.
SAP is the first multi-national business applications provider to open a cloud data centre in the UAE, providing secure and scalable innovation solutions to further the UAE Vision 2021 and the industry digital transformation.
"As UAE Vision 2021 and Oman Vision 2040 drive nationwide digital transformation, public and private sector organisations in both countries need the expertise of local channel partners to run in real-time and enhance competitiveness," said Areff.
Chief Operating Officer, Middle East South, SAP. "MDSap's Moving Experience is an ideal platform for Emirati and Omani organisations to leverage the latest SAP cloud-based technology innovations to optimise costs, scale up, and transform customer experiences."