"AI is the central nervous system of many a digital transformation journeys," said Sayed Hashish, Regional General Manager at Microsoft Gulf during the company's participation at the recently held Ai Everything Summit in Dubai.
"The private and public sectors of every nation need to work together to ensure that we deliver AI for every individual and organisation – reaching every application and every device on Earth. Microsoft has long been at the forefront of this effort to democratize AI and make it accessible for everyone to achieve more," he said.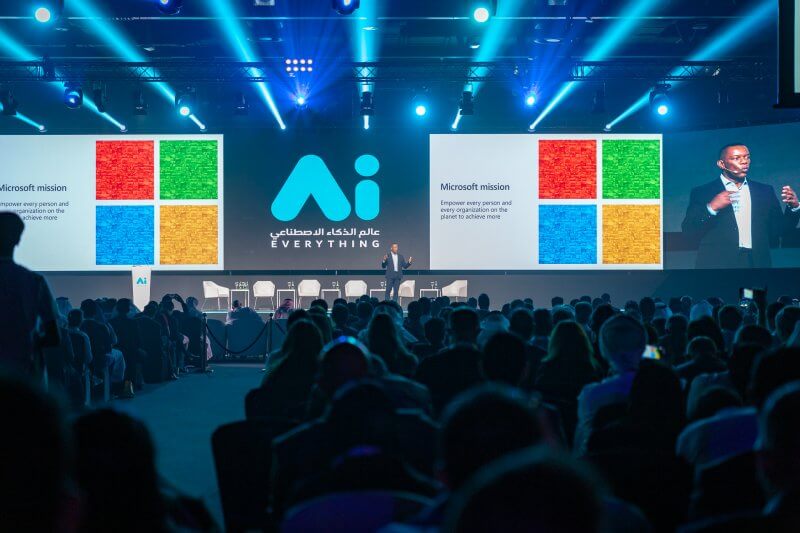 Hosted by the National Programme for Artificial Intelligence, under the patronage of Sheikh Mohammed bin Rashid Al Maktoum, Vice President and Prime Minister of the UAE and Ruler of Dubai, AI Everything 2019 has adopted the theme of "Augmenting the World's Happiness".
In addition to welcoming delegates to its event booth – replete with hands-on AI experiences, exciting case studies and partner demos – Microsoft AI experts were also on hand to share their perspectives. Kevin Dallas, Corporate Vice President of AI and Intelligent Cloud Business Development, delivered a keynote address on "Transforming business with Artificial Intelligence", and will also participate in a panel tomorrow covering "Retail Revolution: AI as a Vehicle to maximise ROI". And Nate Yohannes, Director of Corporate Strategy and Business Development for Artificial Intelligence, gave a presentation on "Amplifying Human Ingenuity" with the help of AI, as well as running Microsoft's AI Academy workshop. Tomorrow, Yohannes will be part of a keynote panel discussion on "Winning the AI Investment Race: In Hot Pursuit of the Future of AI Unicorns".
Microsoft has long urged the skilling, upskilling and reskilling of national workforces to accommodate the need for AI talent. The company experts also highlighted the AI Business School, that provides specialized curriculums focusing on AI strategy, culture and responsibility. Also, in highlights were various examples such as the company's partnership with the UAE's Telecoms Regulatory Authority (TRA) to host a series of hackathons in support of the country's AI ambitions.
As part of its commitment to accessibility, Microsoft also showcased the Seeing AI App that narrates the world around people with vision disabilities. The application harnesses the power of AI to describe people, text and objects in order enabling them to navigate their daily activities.
Microsoft's AI Pulse report, compiled with the help of global experts, has shown UAE organisations to have a significant lead in AI adoption rates when compared with global peers. Some 70% of double-digit growth companies in the country intend using AI within the coming year to improve decision-making, as opposed to 46% worldwide.
The surging demand for its intelligent cloud services has led Microsoft to announce that it will open two new datacenters in the UAE this year, one in Dubai and one in Abu Dhabi. These facilities will deliver the Microsoft trusted and intelligent cloud exclusively to its middle eastern customers, enabling them to avail enterprise-grade reliability, reduce latency, security and broadest compliance by delivering cutting-edge technology solutions.