TCL Communication has unveiled its newest BlackBerry smartphone – the BlackBerry KEY2 LE.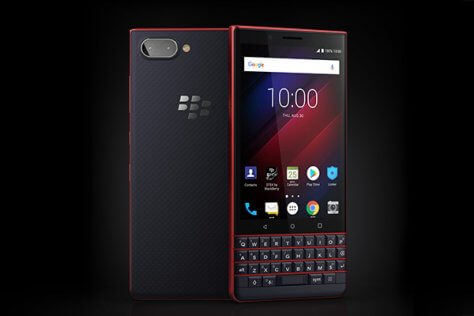 The newest addition to the BlackBerry KEY series smartphone lineup offers three colours variants – Slate, Champagne and Atomic – while keeping with the BlackBerry KEY2 design evolution which includes minimised screen bezels and redesigned chassis for a more modern look and feel.
It also comes with the recently introduced Speed Key for a more customised universal shortcut experience, and in addition to its Android operating system, includes support for popular features like the Google Assistant, Google Lens and Google Pay.
"Today's smartphones try to offer a one size fits all solution, but that is no longer realistic when we have a global marketplace as diverse as we have today," said Alain Lejeune, Senior Vice President, TCL Communication & President, BlackBerry Mobile. "But this is why we focus on making modern BlackBerry smartphones like KEY2 LE, to stand out and deliver a great experience for everyday communication, with access to all the features, connectivity and applications our customers expect."
The new device will be on sale in the UAE from the beginning of this month, in 32GB and 64GB versions.
It also includes a Full-HD, 2.5D display with similar BlackBerry KEY series dimensions, the BlackBerry KEY2 LE is both thinner and lighter, and boasts a redesigned keyboard with keys that are nearly 10 percent larger than those featured on the BlackBerry KEYone.
A dual rear camera (13MP+5MP) with great new capture experiences that include Portrait mode is also featured on the BlackBerry KEY2 LE. This is complemented by an 8MP front camera that comes with LCD flash and new capture modes like Wide Selfie (selfie panorama) and Face Beauty, which offers new selfie capture enhancements. You can also learn more about the world around you with Google Lens™ camera integration, which can help you quickly access more information on landmarks, buildings, books and more simply by pointing your camera at the object.
It is powered by a Qualcomm Snapdragon processor and an efficient battery that offers up to 22 hours of mixed use to get you through the busiest of days and often into the next day. In addition, the BlackBerry KEY2 LE features Qualcomm Quick Charge 3.0, enabling up to a 50 percent charge in about 36 minutes – enough power to get you through a normal work day. The BlackBerry KEY2 LE also comes with a Boost mode charging and contextual battery reminder which will learn from your daily charging habits and calendar appointments to recommend when to charge so you have the battery power you need when you need it most.
For more information about the all-new BlackBerry KEY2 LE and to register to receive the latest BlackBerry Mobile news and updates, please visit www.BlackBerryMobile.com.