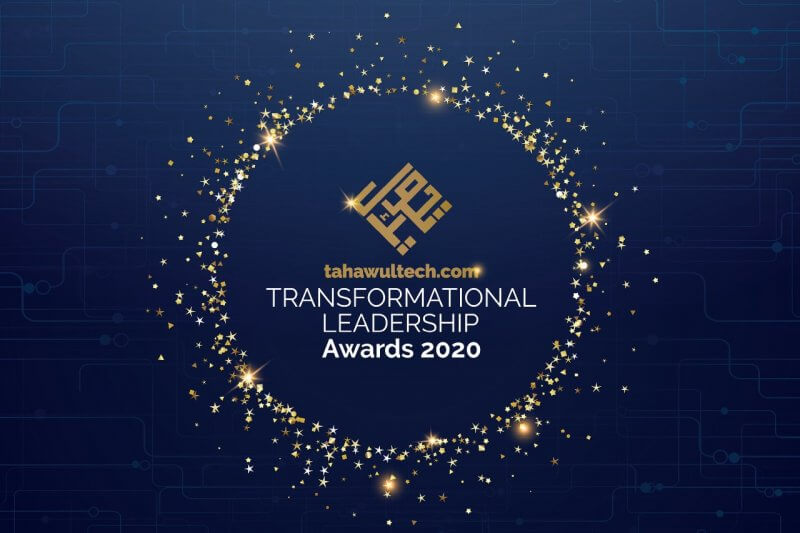 CPI Media Group and TahawulTech.com have hosted the Transformational Leadership Awards, a first-of-its-kind virtual awards ceremony on Monday, 20th July.
The global COVID-19 pandemic has pushed organisations across multiple industries to re-think the way they operate to ensure business continuity. While many continue to struggle in adapting to this paradigm shift, there are some who have turned the challenges brought by the pandemic into an opportunity to fully embrace the digital era.
Transformational Leadership Awards honoured 15 IT vendors and 35 end-users, who have leveraged their expertise and knowledge to equip businesses with the tools to cope and reshape the world post COVID-19.
In line with the 'new normal', the event was virtually attended by over 200 industry players, who joined the celebration in honouring the success of business and IT leaders who have shown excellence in championing the transition to new working models and in accelerating digital transformation amid these challenging times.
The virtual event also featured an exclusive panel discussion with some of the most prominent figures from the IT ecosystem in the Middle East.
Moderated by CNME Editor Mark Forker, the discussion focused on the topic of COVID-19, and panelists examined the role their companies played in maintaining 'businesses continuity' during the crisis, the transition to working remotely, the security challenges that presented, the opportunities that will arise from the situation – and the economic impact the pandemic has had on the UAE.
The panel consisted of Safder Nazir, Regional Vice President- Digital Industries Strategy, Huawei; Savio Tovar Dias, Senior Director – Sales Engineering, Avaya International; Oussama Bachoour, Senior Systems Engineer, Fortinet; Anas A. Abdul-Haiy, Director and Deputy CEO of Proven Consult; Samer F. Hani, Sales Director, Middle East, Ivanti; James Harvey, EMEA CTO at Cisco AppDynamics; and Rajesh Ganesan, Vice President, ManageEngine.
You can watch the event here:
Here's the full list of winners:
Vendor categories
| | |
| --- | --- |
| Hikvision | AI Innovation Vendor of the Year |
| Raqmiyat | Best Automation Solutions Provider |
| Sophos | Best Evolved Cybersecurity Vendor |
| D-Link | Best Remote Connectivity Solutions |
| Rackspace | Cloud Solutions Provider of the Year |
| Avaya | CSR Leader of the Year |
| Fortinet | Cybersecurity Vendor of the Year |
| Huawei | Digital Transformation Partner of the Year |
| Eufy Security | Innovative Home Security Technology of the Year |
| Barco | Innovative Meeting Experience of the Year |
| Huawei | Innovative Vendor of the Year |
| NetApp | Leader in Hybrid Multi-Cloud Experience |
| Micro Focus | Security Transformation Leader of the Year |
| IFS | Service Management Leader of the Year |
| Cybereason | Next-Gen Cybersecurity Vendor of the Year |
Transformational Leaders 2020
Ahlam Al-Sarheed, KFMC
Ahmed Salman, Telecommunications Regulatory Authority (TRA)
Aliasgar Bohari, Zulekha Hospital
Amani Aljassmi, Dubai Health Authority
Andre Wyss, Emirates Group IT
Anindo Banerjee, Meraas Holding
Anshul Srivastav, Emirates Post
Arul Jose Vigin, DIFC Courts
Don Surrao, Aujan Group Holdings
Ellis Wang, Mashreq Bank
Erik Dudman Nielsen, Virgin Mobile, Middle East & Africa
Faisal Ali, The Gargash Group
Ghanem Khalfan Ghanem Al Mehairbi, Statistics Center, Abu Dhabi
E. Noor AlNoman, Department of eGovernment, Sharjah
Hadi Anwar, Group 42
Hussein Mohammed Elmehdi, University of Sharjah
Jaleel B Rahiman, Prime Healthcare Group
Jassim Haji, Artificial Intelligence Society, Bahrain
Jayesh Maganlal, Majid Al Futtaim Properties
Khalfan Matar Al Hassani, Abu Dhabi Monitoring and Control Centre (ADMCC)
Brigadier Khalid Nasser Alrazooqi, Dubai Police
Matar Sulhail Salem Al Mehairi, DEWA
Mohamed Hamed Abdel-Hameed, Ceramica Platino Group
Mohamed Al Maeeni, Abu Dhabi Motorsports Management
Mubarik Hussain, Bloom Holding
Nithin Geo Thomas, Amity Education Middle East
Sabir K.V. Cupola,
Samir Abi Frem, Rotana Group of Hotels & Resorts
Shah Room Khan, Emirates College of Technology, Abu Dhabi
Shanawaz Kakkot Kallery, Enhance Group (AWJ Towell Group Company)
Warren Price, Dubai Petroleum
Wissam Messarra, Mazrui International
Yuri Misnik, First Abu Dhabi Bank
Mohammed Sleeq, Aramex
Haitham Ak Khiary, Al Rajhi Bank