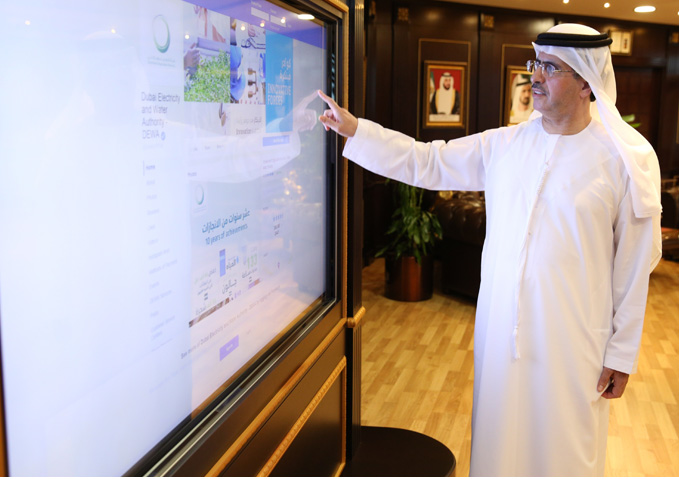 Dubai Electricity and Water Authority (DEWA) has urged its customers to use digital channels to complete their transactions easily anytime, anywhere. All DEWA's services are available on various digital channels, including its smart app and website.
HE Saeed Mohammed Al Tayer, MD & CEO of DEWA, emphasised that DEWA places the health and safety of its customers and staff at the top of its priorities. He has urged customers and society members to follow the instructions and directives of the competent authorities in the UAE and stay home to limit the spread of the novel Coronavirus (COVID-19) and complete all their transactions using smart channels. He noted that DEWA has an advanced technological infrastructure that enables it to provide all its services through smart channels as well as enable employees to work remotely in an efficient manner. This ensures the continuity of DEWA's services at the same level of efficiency and reliability, using the latest smart technologies.
Smart Response
DEWA's Smart Response Service for electricity and water notifications has several features such as self-diagnosis of interruptions. This reduces the steps to deal with complaints to only one step for customers if they can self-diagnose the issue. It also finds the best solutions to deal with, follow up and resolve technical notifications. Thanks to the Smart Response Service, 56 percent of customers were able to self-diagnose interruptions.
Smart channels for People of Determination
DEWA is committed to providing seamless access to information for customers who are People of Determination through its website and smart app, according to Smart Dubai Government standards. DEWA launched several innovative and smart initiatives to support and empower people of determination and streamline their access to information. These include the Ash'ir service for live chat in sign language, which enables people with hearing difficulties to directly communicate with call centre staff via video chat using sign language around the clock. DEWA also provides the Hayak written and visual communication service through its website. Hayak enables written chat and video call option to directly communicate with Customer Care Centres around the clock.
Paying bills
In addition to its smart app and website, customers can pay their bills through Smart Dubai Government's channels, including the mobile payment (mPay) and DubaiNow apps. Payments can also be made using Etisalat Public Payment Machines, Tayseer payment platform using cheques issued from different banks via Emirates NBD's Cheque Deposit Machines all over the UAE, as well as smart and electronic channels from the banks.