US-based flying taxi firm, Vimana, has reportedly completed a prototype trial of its autonomous aerial vehicle (AAV) in Dubai before its launch.
In an interview with local media, the company's CEO Evgeni Borisov said the firm is collaborating with authorities in Dubai to undertake and deploy blockchain aerospace platform prior to its launch in 2020 in the emirate and other emirates across the UAE.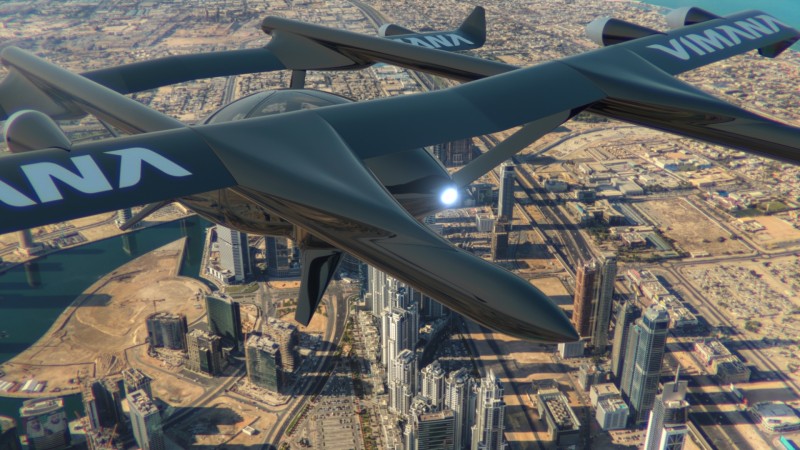 Borisov further highlighted that Dubai is on top of Vimana's list because "the emirate has broken the ice in smart urban mobility."
He then commended the Dubai government's initiatives to take the mobility to next stage from 2D mobility to 3D mobility.
Vimana delivers a UAV, whose aircraft and applications use Blockchain technology.
The firm has developed a prototype for a blockchain-based and blockchain-regulated aerospace ecosystem, which intends to provide urban air mobility programs in smart cities.
In an interview with TahawulTech.com earlier this year, Borisov said, "Dubai is now the best global point of entry for VTOLs (vertical take-off and landing aircraft). The speed of progress in the UAE is faster than anywhere else in the world. We're in close touch with the UAE airspace authorities and are discussing the possibility of deploying the Vimana Blockchain aerospace network in 2020. It's a process which takes time."
Borisov said the technology Vimana is offering has the potential to build a platform for UAVs to be widespread, and part of a safe, transparent ecosystem. "We're bringing machine consensus to the skies, and this means the delivery of an ideal air and transport system," he said. "Historically, flight controls have been designed by people. We are bringing to market a joint solution to provide a human-less protocol which delivers a decentralised air traffic management system based on the Vimana system, which delivers node-to-node signal transmission."