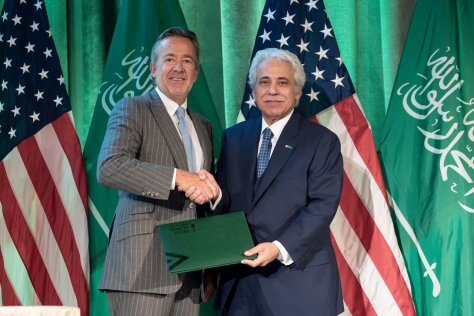 Saudi Arabia's Ministry of Investment (formerly SAGIA) has presented Virgin Hyperloop One (VHO) with a trade license at the US-Saudi Arabia Business Forum that was held in Washington DC, United States.
Organised by the Ministry, Invest Saudi, the US Chamber of Commerce and the US Commercial Service, the issuing marks a significant milestone for the California-based developer in the firm's pursuit to commercialise the technology.
The issuing of the trade license follows a recent announcement with the Ministry of Transport and the Public Transport Authority in Saudi Arabia to conduct the world's first hyperloop study on a national level.
Under the agreement, VHO will examine viable routes, expected demand, anticipated costs and explore socio-economic impacts. In addition, hyperloop is expected to create jobs and add to the local GDP and furthers the exchange of specialised knowledge, while creating the infrastructure for a connected Saudi Arabia.
Dr. Majed Al-Qasabi, Minister of Commerce and Media, presented the license to Tim Wilkinson, Executive Director, Strategy and Growth at VHO in the presence of Her Royal Highness Princess Reema bint Bandar Al Saud, Ambassador of Saudi Arabia to the United States, the Honorable John Abizaid, US Ambassador to the Kingdom of Saudi Arabia and the Honorable Wilbur Ross, US Secretary of Commerce.
"Receiving the trade license from the Ministry of Investment, which has been a very smooth and swift process, marks a significant steppingstone in our commitment to the Kingdom of Saudi Arabia. From here we intend to establish a permanent presence that would better enable us to invest in resources in the region and run our local operations. The move marks important progress towards the commercialisation of hyperloop technology and could propel the country to the forefront of hyperloop development worldwide," said Wilkinson.
A year prior, King Abdullah Economic City (KAEC) and VHO unveiled results of a study to create a Virgin Hyperloop One Center of Excellence, which would include an integrated test track, and explored the feasibility of creating a manufacturing centre and operating facility.
The findings highlighted VHO's potential to drive domestic value by adding to the creation of more than 124,000 high-tech local jobs, further supporting the technology sector by incorporating advances in robotics and AI while driving an estimated $4billion increase in Saudi Arabia's GDP by 2030.