Shakeeb Ahamed, Business Development Manager, ASUS Commercial Business, spoke on their planned product portfolio for GITEX, the importance of providing solutions for the commercial end-user community and the rapid upgradation of IT infrastructure across business sectors.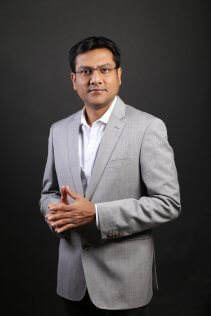 Can you outline to our readers what products, solutions, or partnership agreements you're announcing at GITEX Global 2021?
In GITEX 2021, ASUS BUSINESS is taking part to feature a wide range of ASUS Expert series of laptops, AiO PC and Desktops. We will prominently showcase the latest Intel Evo based ASUS laptops which are equipped with Intel's 11th Generation Tiger Lake processors, designed to meet the performance and mobility requirements of business users. We'll also showcase education focused products which are specifically designed for students and teachers. So, visitors from education stream will also have the exclusive hands-on experience over ASUS Chromebooks. As for SMB, Government and Corporate segments, a wide range of ExpertBook laptops, ExpertCentre AiO and Desktops will be presented in the customised scenario setting to boost users' personal experiences.
How important is it for your company to participate at GITEX Global 2021, in terms of getting to network face-to-face with your customers and partners?
Gitex Technology Exhibition has been a popular annual event for business networking and lead generation in the region. ASUS BUSINESS is looking forward to presenting the latest products, cutting-edge technology, and solutions for the commercial end-user community. As our products and solutions are applicable in almost all forms of operations in business organisations, we believe a solid presence in GITEX would definitely bolster both brand awareness and best business solutions in the ecosystem. Furthermore, our main objective for the event is to share business vision with our strategic channel partners and key local media to generate a good number of sales leads from the event. We also plan to collect channel and end-user feedback which will be utilised for improving our overall go-to-market approach.
ASUS BUSINESS is planning to present an extensive range of ASUS Commercial products at the event, inviting channel partners, media and visitors to have a hands-on experience of the latest devices. Visit our booth H1-C26 at Gitex.
In your opinion, what are the key technologies that will fuel new innovations in 2022?
The enduring impact of Covid-19 pandemic has influenced both individual and organisational buying behaviour. We have noticed rapid upgradation of IT infrastructure across business sectors. The trend wave is expected to continue driving demand for IT products and solutions. Now it's not just about offering system access and connectivity to users in their organisation. Seamless connectivity, high performance, mobility, security, and flexibility to scale up have emerged as the priorities for organisations in deciding on their IT device and solution buying decisions.
ASUS ExpertBook B9400 brings to the market an integrated solution for the demand. It is the world's lightest 14" business laptop, equipped with latest Intel® Core™ i7-1165G7 Tiger Lake advanced CPU and designed with precision for mobility weighing as low as just 880grams. Along with the 24hrs battery life, military grade durability, enterprise grade security and unmatched user experience with noise cancellation technology, ASUS ExpertBook B9 is the benchmark for business laptops serving as your ideal partner in the corporate world.