On his most recent visit to Dubai, Rick Constanzo, President and General Manager, Information Management, Kodak Alaris, sat down with CNME to discuss the challenges in the era of digital transformation and three key factors that can enable enterprises unlock the value of going digital.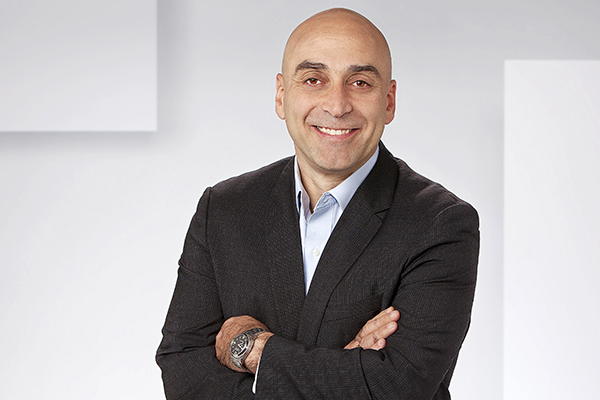 Can you tell us more about your recent appointment and what your primary focus will be within the company?
I joined Kodak Alaris in January. Before that I spent two years with SAP as the executive president responsible for enterprise mobility, telecommunications industry practice and public cloud services. Prior to SAP, I was the executive vice president of global sales and regional marketing for BlackBerry where I was responsible for overseeing the go-to-market strategy and financial performance of the global organisation.
As the President and General Manager of Kodak Alaris' Information Management Business, I will have overall responsibility for the financial performance, customer satisfaction, product development, sales and marketing and the entire end-to-end operations of the company.
How important is the Middle East market for Kodak Alaris?
This region is hugely significant for us. From my experiences in working with SAP and BlackBerry, and, of course, my earlier months at Kodak Alaris, what I found is that the Middle East region is very practical when it comes to technology. Countries in this part of the world are open to embracing emerging technologies. In fact, that's what really excited me about this role at Kodak Alaris – engaging with organisations that keep on innovating and adapting new technologies to handle industry significant issues.
This region has always been very forward-looking from our perspective, probably more so than any other areas around the world.
As for the verticals, we are strongly focused on the banking and finance industries across the Middle East. Also, as smart governments are becoming a big focus of this region, we are seeing more and more public sector entities are adopting our products and solutions. Moreover, extracting value from the information to solve customer engagement issues, streamline processes and improve efficiencies is a massive focus for us.
What do you think are the most pertinent issues surrounding digitalisation today and how do you plan to address them?
The trickiest problems right now revolve around digital transformation. The massive amount of data that we have today is continuously growing at an accelerated rate.
Ninety percent of the accumulated data today has only been generated over the last two years. That sum of data came from only two billion devices that we currently have. So, we should think, what will happen if that number of devices increases to 20 billion?
Big Data is now bigger. However, as it grows, we are seeing that unstructured data is surpassing structured data. This scenario makes it more challenging for organisations to extract and quantify the value of the information that they have. I believe that whoever can take a look at that amount of unstructured data and unlock the value out of that information, is going to create a new opportunities for businesses. Moreover, it will enable enterprises to unlock tremendous value for customers and help solve some of the most pertinent problems in the digital age. Kodak Alaris is squarely focused on that. Our view is that the technology that's been applied in the past to handle structured data is no longer sufficient today. We need three important elements – new science, technology and ecosystems.
By science, what I mean is new processes that will allow you capture unstructured information, recognise what it is and extract its value. New technology means having the right tools to store, share and integrate that information. Lastly, a new ecosystem of partners to figure out how you can build solutions around that.
When it comes to the assets and investment areas we have, we think that we have the world's best image recognition science out in the market, which comes from the 100 plus years of history that we have. We believe that we have the best image unstructured data science available in the market. From a technology perspective, our full portfolio – from document scanners to enterprise software, services and solutions – enables businesses to unlock the value of information to better meet the changing needs of customers, today and in the future. From the ecosystem perspective, we operate in 28 countries across the globe and the widest variety of services and general partners focused on solutions right now. We think we are in a very good position today to help the company unlock the value of information and we're making investments to further explore opportunities in this space.
SMEs comprise a very large portion of the market here in the region. How're you extending your reach to the SME segment?
As a company, we are performing well in helping our customers move from analogue data sets to digital. More importantly, it's not just about the analogue to digital shift. It is also now about how we can help companies do more with digital content. This is where we think our offerings stand out the most. We provide capture, recognition and extraction technologies that support every stage of digitisation. This makes it easy for IT leaders to integrate our document capture devices into the 'digital nervous system' of the company. We think we're bringing the right combination of science, technology and ecosystems in enabling organisations to be more digitally empowered.
The reason why we're so successful in large enterprises is because of some of the unique attributes that our products have like accurate, fast and high-fidelity capabilities. In the past, our technologies were largely focused on big enterprises. Our technologies that were once only accessible for large government or finance firms are now available for small businesses as well. So, we've been able to scale down our offerings to better fit SMEs and give them more cost-effective packages.
What are your plans in the coming months?
Last quarter, we just launched some of our distributed capture products. This product line is targeted towards SMEs, and soon we'll be releasing our wireless enabled products, and we're very excited about that. We've also launched new production capture devices. Wireless technology has already been around for the last few years, but what we wanted to focus on is the user experience and solve fundamental problems around security, efficiency and scalability.
In terms of the solutions, we have recently launched Info Input as well. We're trying to have a more holistic approach to certain use cases through a combination of hardware and software offerings. I think that an end-to-end approach serves our customers very well. We believe that we're focused on the right things. This is a very busy year for us and this year will see us develop and release new innovations.
We think that the amount of digital content being generated today is huge and it is only going to accelerate. The opportunities and problems that we're finding in digital transformation require massive innovation on science, technology and ecosystem. We're proud of the work that Kodak Alaris has done across those parameters.