HP has unveiled its new premium device, the new HP Spectre, at an exclusive event in the UAE.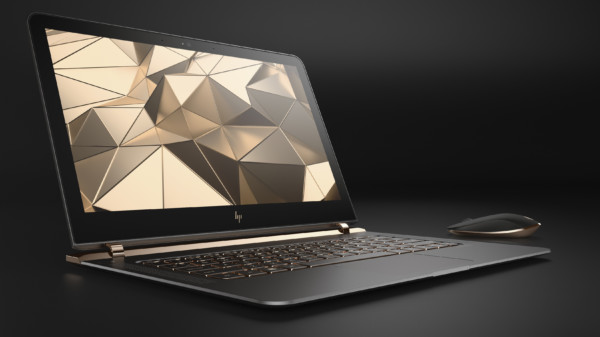 The HP Spectre has a total weight of just 1.1kg, a width of less than 1.5cm, and the options of an Intel Core i5 model and an Intel Core i7 model. It features a superb entertainment experience with full HD 13.3" (33.8cm) diagonal edge-to-edge display and Bang & Olufsen sound. And, just a few of its luxurious looks include high gloss copper accents, which reflect a hand-polished, jewelry-like finish and an innovative hidden piston hinge, creating the illusion of a hingeless design to offer an unmatched premium look and feel. Unveiled as the 'world's thinnest laptop,' the Spectre has an aluminium chassis as thin as an AAA-battery.
Mathew Thomas, VP and MD, Middle East, HP, believes the HP Spectre is the perfect illustration of how the company not only reacts to trends, but also embraces change. "A large part of our business philosophy is to reinvent who we are, what our customers want, how we can provide that and – uniquely – how we anticipate that. We aspire to create technology that makes life better for everyone, everywhere and in the HP Spectre we see innovation at its best – advanced and progressive technology that is geared to optimum productivity and a style and design that defines class."
The HP Spectre unveiling event included a selection of fashion pieces on display, each created taking inspiration from the Spectre laptop. The exclusive pieces were created by some of the region's top fashion designers, including House of Nomad, Arwa Al Banawi, Dima Ayad and Ayah Tabari, who put together outfits that captured the essence of the luxurious laptop. The designs debuted at the event and were worn by four of the Middle East's most widely-respected fashion influencers: Rosemin Manji, Nadya Hassan, Ola Farahat, Dina Akesbi and Ahmad Dabbas.

The workforce, and the way we work, is changing. In recent years, there have been several dynamic shifts in what we expect from our technology as well as the way in which we are now using it. According to a research conducted by Redshift, more than two thirds (69 percent) of IT decision makers feel that PC design is important to enable mobility while over three quarters (77 percent) of IT decision makers think that a well-designed work PC would increase job satisfaction.
In addition, experts say this has been driven by a changing society where millennials are expected to represent almost 50 percent of the workforce by 2020.
"In a region where we are constantly on the go and want to excel at our work and personal lives," said Thomas. "It is important that we provide users with a laptop that complements their lifestyle – and today, our consumers are demanding a thin and light device with all-day battery life. We understand these needs, and will always strive to reinvent and innovate, to engineer experiences that amaze."
The new 13.3-inch diagonal HP Spectre laptop is now available in the UAE with a starting price of AED 5,499.