Cisco predicts that the rollout of 5G and Wi-Fi 6 will truly result in better connectivity and an explosion of innovation as a result.
5G and Wi-Fi 6 will truly revolutionise connectivity and bring with it new applications of technology. When connectivity improves, there is often an accompanying wave of new products, services and experiences across industries. The difference between the upcoming wave of innovation and the one experienced with 4G and LTE is based on who will be leading the charge.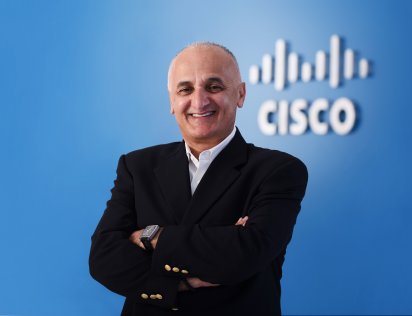 4G revolutionised consumer experiences, providing the wireless foundation for the invention of smartphones. Essentially putting the Internet into people's pockets, the smartphone revolution has led to the development of a wealth of apps which enable online shopping, photo sharing and bill payments, in addition to a wealth of other products and services. The quest for hyper-connectivity is demanding faster, more reliable networks and is causing businesses and industries to adapt at an unprecedented pace.
The next significant leap in connectivity
The digital age has resulted in an expectation for instant connectivity, especially on-the-go. However, the reality is that today's wireless access points and 4G networks cannot handle the number of devices trying to simultaneously connect. With Wi-Fi 6, Cisco anticipates up to 400% greater capacity, reducing latency and increasing download speeds significantly. Improved connections will also have less of an impact on a connected device's battery, enabling it to become up to four times more power efficient.
The 4G era connected the digital and physical worlds through the smartphone. This shift alone caused vast disruption, with industries completely transformed by consumer connectivity and the sharing of information. Many businesses resistance to such change were made to adapt, in order to survive. With Wi-Fi 6, the evolution will be different. As Wi-Fi 6 will reach maturity much quicker than 5G, it will drive help businesses drive innovation forward. Many organisations have already discovered the positive effects of digital transformation and we can now connect everything from our lights and home appliances, to even footballs and grapevines.
Whether to make operations safe and more efficient, or to offer consumers a more personalised experience, we will see companies embrace this transition as they strive to remain competitive and provide consumers with the latest products and services. From students reliving historical events and surgeons practicing procedures through VR headsets, to warehouses fitted with sensors for autonomous robots and vehicles to fulfil orders, the applications of such technologies are countless. This will all be possible, with the advent of Wi-Fi 6, allowing for increased bandwidth and lower latency.
A secure, wireless future
Wi-Fi 6 and 5G offer enormous opportunities for productivity and innovation, but successfully adopting these technologies at scale will be a challenge. These innovations will increase business mobile traffic up to seven times by 2022 and the number of IoT devices will increase to the billions. This will inevitably make security more complicated and ever more critical, putting intense pressure on IT to manage and secure a constantly growing network. The businesses that can successfully address each of these challenges will be the ones that thrive in the new wireless era.
Cisco has been re-architecting the network to meet these challenges and unveiled its intent-based networking portfolio to prepare customers for this wireless-first world. With a software-focused approach, the network unlocks data and insights that will enable IT to support businesses in real-time, automating routine tasks and embedding security into the network itself. Such efforts are helping customers capitalise on the opportunities Wi-Fi 6 and 5G offer, creating enhanced user-experiences, while ensuring security remains paramount.
Cisco has completed Wi-Fi 6 connection tests with the likes of Intel and Samsung, fine-tuning processes to ensure the best standards in connectivity. New Wi-Fi 6 access points across Cisco's Catalyst and Meraki portfolios offer customised, programmable chipsets and access to industry-leading analytics capabilities for businesses. These new APs deliver a more secure wireless network and can communicate with multiple IoT protocols.
A new core switch for the campus network will also be introduced. For over 20 years, the Catalyst 6000 family of switches have served as the foundation of many customer campus networks. Whilst it has been one of the most successful networking products in the company's history, Cisco is committed to innovating the network and meeting the demands of today's businesses.
Today's companies require a networking foundation that is designed to solve the challenges posed by our new wireless-first world, with speed and efficiency. Cisco's new Catalyst 9600 core switch will meet such demands and act as the secure foundation for customer campus networks for many years to come. It is crucial that businesses are equipped with the right technology to future-proof their offerings and gain a competitive advantage.